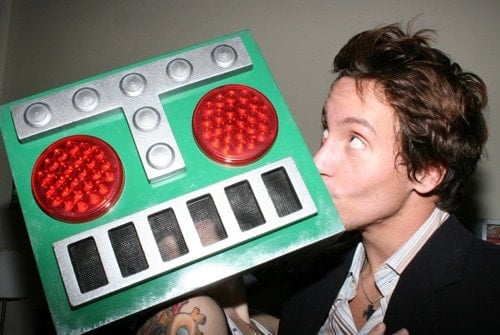 Yanier Gonzalez
Writer, designer, publisher (Destructoid)
Who are you, and what do you do?
My name is Yanier Gonzalez. I founded and run Destructoid.com. Everybody calls me Niero.
What hardware do you use?
I destroy laptops. Within a year I went through an Asus G70 and a Sony VPC-EB46FX/Wi, so I made the switch to Mac. I hadn't used a Mac in ten years, so that was an awkward first two months. Now I swear by my MacBook Pro, memory maxed out, and a Razer Copperhead mouse.
I play video games for a living (depressing, I know) on a Samsung LN40A550 with a Logitech Z 5500 5.1 stereo, and own just about every game console that's been released in the last 20 years but am otherwise a minimalist who aspires to live out of a shoebox. My phone (and camera) of choice is a Samsung Galaxy S II, which recently decommissioned my 3-year old Blackberry Curve, and test our iOS apps on an ancient iPhone 3G. When I go out jogging its all about my iPod Nano, 1st Gen.
And what software?
I publish four online web sites and work with a team of a hundred contributors, so a lot of my software is hosted and virtual. We rely on Google Docs, Basecamp, Campfire, and a home-grown content editing system we call Elephant, which was authored with a brute-force Terminal, Bash, TextMate-driven development team and maintained on Github. My personal text editor of choice these days is Coda.
Despite working for a dozen years as web developer I've developed an allergy to Adobe products, so to this day I still do all my graphics work on Corel Photopaint 8, released in 1996 like an old man in the woods with his manual camera. I've heavily customized and scripted many shortcuts over the years, so I feel like its my own design software. I'm fond of the online editor Pixlr and also rely on Screenshot Plus OS X widget for quick and easy blogging.
What would be your dream setup?
My ideal work hardware is a swiss-army computer-tablet-tv-phone. It would look like an 11" MacBook Air that ran OS X Lion, can be shut and used as a tablet running Android 4, but could also somehow unfold into a 37" OLED that I could roll-up (or use an internal projector of some kind) and bootcamp into Windows 7 or an external device via HDMI. It would have built-in 4GLTE or better connectivity and its LED touchpad would be removable so I could also use it as a phone.
My ideal game console is limitless in power and invisible in my home: a cloud farm where I login and upload my money away.
Uses This is supported by ZSA, makers of the Moonlander, ErgoDox EZ and Planck EZ keyboards. They also publish an awesome newsletter.