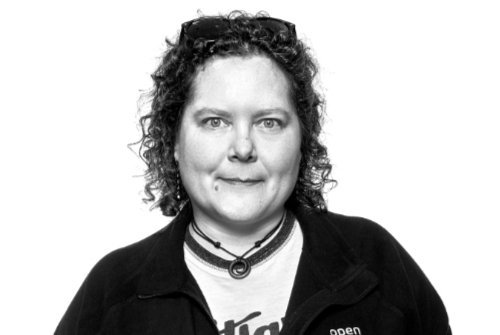 VM (Vicky) Brasseur
Corporate strategist, open source expert
Who are you, and what do you do?
Hello there! I'm VM Brasseur, but because we're all friends here you can call me Vicky. I'm the author of many articles and one book, a public speaker, and a corporate open source strategist. This means I help companies use, release, and contribute to free and open source software (FOSS) in ways that are good for their bottom line and for the communities. I'm also a FOSS advocate without portfolio, working with and advising all projects that need it rather than strongly identifying as a member of any one community. This allows me to make a lot of cross-community connections and serve FOSS better. (Relatedly: thanks to a recent layoff, I'm on the market. Hire me!)
What hardware do you use?
The following assumes a home setup. My job requires a lot of travel (I spent nearly 70% of 2019 on the road), which is a different hardware setup. I have that written up over here. Obviously, the travel setup isn't really needed right now, what with my country totally stuffing its attempts at curtailing the spread of a pandemic. But I digress…
The Desktop: My workspace is basic, minimal, and mostly empty. The desk itself is a couple of IKEA FINNVARD trestles topped with a HILVER bamboo desktop. My chair is a Haworth Very Office Chair that I got a heckuva deal on from a local used office furniture store. On the desk itself: a 13" 2017 MacBook Pro, an Anker PowerPort Speed PD 5 (under the desk, actually, but this thing is so great I can't not mention it), an mStand laptop stand, a 27" HP Z27i ZDisplay on a bog standard adjustable monitor arm, a boring but perfect for me Apple Magic keyboard accompanied by an Apple Magic Trackpad 2, a Blue Snowball microphone, and finally a Logitech C920 HD webcam that lives on top of the ZDisplay.
The Music: About the only time there isn't music playing somewhere in the house is when I'm sleeping, so my musical devices are very important to me. I have a headphone addiction so I have many of those, but the ones that get the most use are my Bose Altos when I'm out and about (yes, they're kitschy but I love them), my Bowers & Wilkins P7 Wireless when I'm at my desk (superb sound and comfort), and my Powerbeats Pro anywhere and everywhere (these easily kick Airpod ass in sound, comfort, and usability). When I'm doing stuff around the house (read: not using headphones) I kick it old school using the reliable tech I've been using since the turn of the century: Slim Devices (now Logitech) Squeezeboxes and Booms streaming music from my Ubuntu server running Squeezeserver.
The Wetware: Beverages are nearly as important to my productivity as music. While I adore coffee (each morning features a 200ml inverted Aeropress of hand-ground Sweet Maria's beans home-roasted in a Behmor 2000AB Plus; yes, I'm That Person), tea is my primary productivity lubrication when I'm at home. The majority of my tea is looseleaf from Upton, served in a vintage Swan Brand 'The Carlton' teapot. While I have a Cuisinart CPK-17 kettle, in 2018 I bought a Zojirushi CD-WCC30 water boiler and it's been a life-changer.
The Mobile: My mobile devices don't get much of a workout unless I'm on the road. Still, I suppose they deserve a mention since they're pretty important to me in many ways. After reading the above it'll probably be no surprise to learn that they're all Apple devices: iPhone 8, a gen one 9.7" iPad Pro with equally vintage Apple Pencil and Smart Keyboard/cover. I wrote a massive amount of my book on that iPad Pro. It's perfect for those little airplane tray tables. The mobile device that gets the most daily use is my Apple Watch 4, mostly for checking weather, tracking activity, and seeing the time in other regions.
And what software?
I'm in tech, and I've been telecommuting for at least 13 years, so a lot of my life is online. This means I use a ton of software. To be honest, I didn't realise exactly how much software I relied on until I started making a list for this article.
The Exobrain: I have a mind like a steel sieve, write everything down (digitally speaking), and review it all constantly. The core of it all is my Exobrain, without which my life grinds to a halt and to which I refer dozens of times every single day. Larger projects and initiatives get tracked in Trello, discrete steps - and every other task or todo item in my lifei - all go into Remember The Milk (RTM), and web clippings go into Evernote. To be honest, if Apple Notes had good meta-tagging and web clipping then I'd rather use it instead. But it doesn't, so I keep Evernote. It gets the job done. Zotero is priceless for storing and cataloguing all of the research papers I read.
The Writing: If I write it, it's written in Markdown and stored in Git, or more specifically in repositories in GitLab. Every presentation, article, blog post, website, and even my book are in version control. I prefer the GitHub Desktop client on my Mac and Working Copy on the iPad, but I do spend time at the command line by way of iTerm2. My editor of choice is MacVim on my Mac or Textastic on my iPad Pro, but I'm becoming more of a fan of the editor that's included with Working Copy as well.
The Communication: I love email. It's is such a wonderful and powerful tool and it's the core of my communications. Because email is so important to my life and my productivity, I entrust it to professionals rather than to a search engine. Specifically, I entrust it to Pobox/FastMail, who rock so hard. I love them. Until recently, I used Apple Mail as my email client, but its support for inline email replies is rubbish so now I use Postbox, which is literally Thunderbird but it works. Instant messaging is almost as important as email for me. I spend most of my IM time in IRCCloud, which handles not only my IRC networks but also the innumerable Slacks that we all find ourselves in lately. Signal, Apple Messages, and Discord also get a lot of use. Zoom and Facetime are my preferences (in that order) for video communication and have been even before the pandemic hit.
The Presenting: Public speaking and conference presentations are a huge part of my job. I used to use Keynote but discovered Deckset a few years ago and instantly fell in love. Deckset has transformed how I write, prepare, and deliver my talks. For brainstorming talks and everything else, I rely on MindNode for mind mapping and Procreate for my mobile whiteboard. Color Oracle helps me ensure my presentations will work for people with different visual abilities.
The Rest: And then there are all the tools that I don't have enough of to form separate categories. Safari is my browser, thanks to its speed and impressively low power and memory use. Twitter is central to a lot of what I do, and the desktop version of Tweetbot is my tool of choice there. A lot of my industry news comes from there, but increasingly more of it is via my RSS feeds in Newsblur. 1Password creates my passwords and ensures they're secure. Alfred helps me find and launch stuff on my Mac. Dropbox is my primary cloud storage service but I'm slowly transitioning that to iCloud. While iCloud is my primary photo backup, Flickr is the photo service I prefer for sharing. TunnelBear keeps the snoops out of my network when I'm on the road. Every Time Zone ensures I know what time it is elsewhere before I accidentally schedule colleagues for meetings at 4AM in their location.
The Elephant in the Room: Yes, my life is dedicated to furthering Free and Open Source Software and its communities. No, pretty much none of my hardware or software is FOSS. I used Linux and free software as my daily driver for about ten years, then I realised how much of my time was spent wrestling with my tools instead of getting stuff done. I switched to the Apple ecosystem because it allowed me to get stuff done quickly and effectively. I sometimes catch flack from the less enlightened members of the FOSS world for that, but I have no regrets. When I have need for a new tool or to replace an old one, I evaluate FOSS and proprietary options. When a FOSS tool meets my usability needs I choose it, and happily. Unfortunately, that doesn't happen very often.
What would be your dream setup?
My setup is constantly up for reevaluation and evolution (for instance, the recent mail client change I mentioned), so there aren't many changes that I know of that I haven't already made. The only ones I can think of are things that aren't possible yet. For instance..
Hey, Postbox and Trello? Could you two please get together and, like, integrate or something? I wanna be able to right-click on a message, select a Board/Card, then either add a new card or add the message as a card comment including the primary email headers (To, From, Cc, Subject, Date). This would make my life immensely easier, since right now I need to go to the Trello window, find the board, find the card, open the sharing options, copy the card email address, then forward, Bcc, or resend the email message. I do that many times a day and it's a pain.
Another thing that's currently not possible is Deckset on the iPad. Frankly, there's little that I do that requires a Mac except for Deckset. If the team were able to release an iPad version it would open the door to my traveling with one fewer device, and a large one at that. Rumour has it that they're looking into it, so maybe some day soon? I hope?
The final thing I'd like is an office in a home that I own. My current home office is lovely and all (probably my fave ever to this point), but as a renter I'm limited in the potential improvements I can consider. Hopefully this is something I can fix in the next couple of years.
Oh, and a dog. My cats might not agree, but we need a doggo fren around here. That'd be the best. I'd post so many dog pictures to Flickr and Twitter, omg. I'd be insufferable. 🐶
Uses This is supported by ZSA, makers of the Moonlander, ErgoDox EZ and Planck EZ keyboards. They also publish an awesome newsletter.