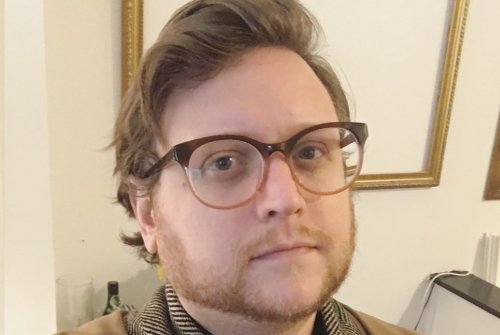 T.C. Sottek
Executive editor (The Verge), founder (The Adventure Guild)
Who are you, and what do you do?
My name is T.C. Sottek. I'm currently executive editor at The Verge, and founder of The Adventure Guild, a small games publishing company. In both cases, I spend my days caring a lot about words: what they mean, what they do, and who they're for. I'm very privileged to get to work with so many talented people, from a newsroom with great journalists to a small team of fiction writers and artists.
I get to do a lot of rewarding things, but the most fun thing I do is definitely writing spells.
What hardware do you use?
In a normal world, I split my time between my tiny gold MacBook and my custom-built Windows PC at home. But since entering quarantine I've switched full-time to my desktop. I built a new one in October, and it's definitely the most tricked-out computer I've ever made. I had high ambitions to turn an Elgato Stream Deck into a fancy control console for the Adobe suite, but it's ended up just being a small screen that shows my CPU temp and the time.
It's nice to be able to turn this setup into a broadcast center when I need to host holiday trivia. Here are the full specs of this setup:
Now that I think about it, there's a ton of other random stuff I use every day, including AirPods Pro (though I try to avoid these), an iPad Mini for watching TV in bed, a Sonos Move, a Vizio 4K television, and some HyperX headphones that I swap in sometimes because they're definitely more comfortable than the SteelSeries at a fraction of the price.
The most reliable technology I use is a Pilot G2 retractable gel pen and a pocket-sized Moleskine.
And what software?
The only thing I miss about the macOS experience is specific to laptops; I really like the three-finger swipe for switching between multiple desktops / windows. That just feels so right.
But I love Windows. Of all the operating systems I've used -- Commodore KERNAL, DOS, Linux, etc -- for some reason I just feel most at home in Windows. Maybe it's because my experience with operating systems was largely forged through struggle (hello, Windows ME). I dunno, I just like it.
Going deeper under the hood, there's a ton of stuff I use on a daily basis.
While I fiercely support market competition, I'm regularly annoyed that I have to have 10 different game installer platforms. Just counting what's pinned to my taskbar, I see Steam, Minecraft, Origin, Epic Games, Blizzard, and Ubisoft. I know there are more lurking somewhere in my system.
All of the "work" staples: Slack, Chrome, everything G Suite, Dropbox, TweetDeck, Discord. Not work-related but work-adjacent: Spotify.
The software that really sucks me in the most is all made by Adobe. For the past three years while designing the roleplaying game Quest, I've lived in InDesign. I literally have dreams about page spreads in InDesign. It feels like a second language. From there, I spend a significant amount of time in Photoshop, and then a lesser amount of time in Illustrator and Audition. I did finally crack open Premiere Pro a couple weeks ago when I decided to re-edit The Fellowship of The Ring. I have a good rough cut already, but I'm sure the last 5% will take me at least a year.
What would be your dream setup?
It feels really nice to say I'm about 95% of the way there. The only thing I could think of that would improve my setup is the stuff around it. I live in a small-ish New York City apartment, which has begun to feel a lot more cramped now that I run a small publishing company. I'd love to have (a lot) more space for storage, a drafting table for sketching things out, and probably some room for a photography studio. Basically I just want a nice office for a small business.
If I'm being frivolous, I'd love a Maingear F131 or a Digital Storm BOLT with all the bells and whistles. For some reason a gaming PC with custom hard tubing for water cooling is my version of a Lamborghini. These PCs can be configured in the tens of thousands of dollars for no reason other than to deprive rich people with poor taste of their money. (Which is a perfectly legitimate reason.)
What I really want is for PC manufacturers to stop putting RGB lights on everything. Sometimes I like to work without feeling like I'm at a rave inside of a circus tent.
Uses This is supported by ZSA, makers of the Moonlander, ErgoDox EZ and Planck EZ keyboards. They also publish an awesome newsletter.