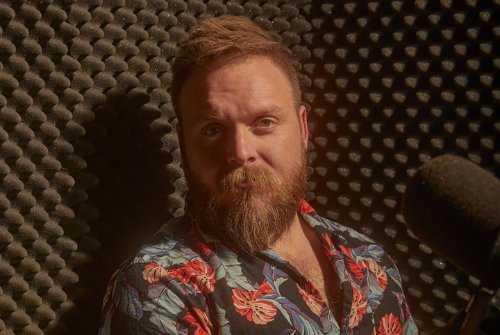 Taylor Moore
Podcaster, performer, producer
Who are you, and what do you do?
I am Taylor Moore. I created and run Fortunate Horse, a comedy label. In the past we've made books, magazines, and TV. Now we make podcasts, such as Rude Tales of Magic (loony toons fantasy), Fun City (madcap cyberpunk noire), Oh These Those Stars of Space (episodic starship chaos), and an undisclosed new project announcing this summer. Between these shows, to varying degrees, I act as performer, producer, writer, editor, composer, and business manager.
What hardware do you use?
Shure SM7B microphones. Scarlett and Motu audio interfaces. MacBook Pros, iPads, iPhones. Native Instruments KOMPLETE KONTROL S88 MK2 (digital piano keyboard). Sony MDR-7506 headphones. Multiple external monitors. A Logitech vertical mouse that I love. An 5ft tall office chair I built from parts. Standing desk built from discarded tables from an old office job. A shelf of hard drives including a 16TB NAS. 1gig up/down internet connection and approximately one million dongles, extensions, and adapters.
And what software?
For communications, admin, and distribution:
Productivity:
For production:
And a vast galaxy of plugins, virtual instruments, and sample libraries that number too many to name.
What would be your dream setup?
Enough monitor real estate to block out the sun or a USB-C port in the back of my head. Barring those two: early retirement.
Uses This is supported by ZSA, makers of the Moonlander, ErgoDox EZ and Planck EZ keyboards. They also publish an awesome newsletter.