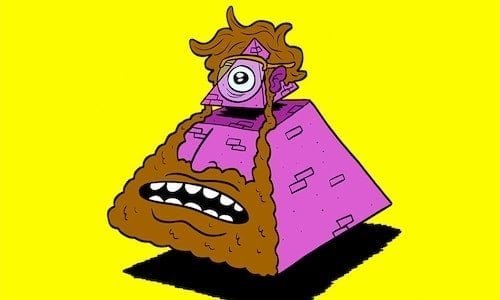 Matt Lubchansky
Cartoonist (Please Listen to Me)
in cartoonist, mac
Who are you, and what do you do?
I'm Matt Lubchansky, and I'm an illustrator and cartoonist based in Queens, NY. I've been making my comic Please Listen to Me once a week since 2010. I'm the Editorial Assistant and a weekly contributor at The Nib. I've done freelance illustration work all over the place. I'm also the co-author of Dad Magazine (Quirk, 2016).
What hardware do you use?
At home, I work on a 21.5" 2015 iMac and a Cintiq Companion 2 tablet (13"). I switched to working digitally about 6 years ago and I basically never use paper anymore. I also have a Toshiba 13334 Chromebook 2 laying around that I use mostly for writing comics if I feel like I need to get away from my actual desk. When I've got to work out of an office or a friend's house or a hotel room or whatever, I rig up a little studio with the Chromebook and the Companion side by side. I end up writing all my ideas down on my iPhone in the middle of the night mostly.
And what software?
I try to get all my ideas down in Google Docs so I've got it on all my devices because I end up working all over the place. Every so often I'll write a script in TextEdit if I need to turn off the internet and just grind for a bit. I lay out panels, letter, sketch, and ink in Manga Studio EX 4, and then do all my colors in Photoshop CS6. Manga Studio 4 is pretty damn old and I'm pretty sure it's not even supported anymore, but I got very used to it before I went full-time as an artist and the learning curve of a new program freaks me out. Every so often it'll break and I have to plug a disc drive into my tablet and reinstall it with a physical install disc - one day it's definitely going to die and I'm going to have to go live in the woods.
What would be your dream setup?
In my wildest dreams I probably have one of those huge Thunderbolt displays with a Mac Pro and that stupidly massive 27" Cintiq that nobody actually needs. I've been working off a 13" Cintiq for years and having one of the giant ones with a huge articulated arm bolted to the wall sounds nice. For traveling, I'd honestly stick with the setup I have probably!
Uses This is supported by ZSA, makers of the Moonlander, ErgoDox EZ and Planck EZ keyboards. They also publish an awesome newsletter.