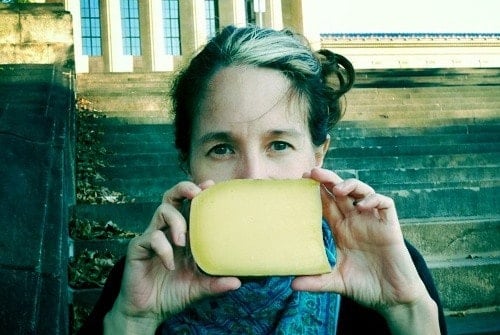 Madame Fromage
Cheese blogger
Who are you, and what do you do?
I'm a digital cheese courtesan. I blog about cheese, offer pairing advice, and stage delicious experiences - mostly around Philadelphia, where I live. Recently, I wrote a racy cheese guide.
In my earthly life, I teach and direct a graduate writing program at a university haunted by cheese-loving priests. My desk is turbo-loaded with pairings to assuage their every craving.
What hardware do you use?
I'm partial to Peg and Awl cutting boards and cheese lovin' tea towels from Girls Can Tell. And I'm nothing without my cheese knives, my Rebel T2i, and Manfrotto 190 tripod. I love to say Manfrotto.
I blog on a MacBook Pro and rely on my iPhone for instant cheese updates via Twitter and Instagram. I like knowing which cheeses are in season, what's ripening, and who's stocking what across the U.S.
My refrigerator - a key component in this world - is a fully stocked stainless steel Kenmore. The temperature controlled humidity drawers look like tide pools full of curious sea life at the moment - I just finished writing a story on spring goat cheeses for The Philadelphia Inquirer.
And what software?
The softer, the better, frankly. Lately, I'm into geotrichum rinds, which have wrinkly rinds like pug puppies. Allison Hooper at Vermont Creamery makes some flawless softies, like Bonne Bouche, a cheese so fuzzy and crazy that I dream of turning the rind into velvety wallpaper.
I'm also having a mad love affair with Tunworth, a hopelessly gooey Camembert from southern England, of all places. And don't get me started on soft blues. Have you eaten Chiriboga Blue? It might as well be cheese gelato. I could lounge in bed all day and eat it with a tiny spoon.
What would be your dream setup?
I dream of: a traveling cheese valise. I am always lugging cheese boards around to parties, demos, tastings, classes, etc., and frankly, my setup is a crappy laptop bag and some ice packs. I travel mostly by train, so I fantasize about having a fabulous valise with special compartments for condiments, cheese wedges, and knives. When I arrive at my stop, I want to be able to snap the case open and set up a fabulous cheese board on the fly, complete with cloth napkins, a flask, and an array of snacksies.
I am working on a project with a canning blogger, and we joke about traveling across the country together to host pop-up nibble fests - me with my cheese valise, she with her preserve-laden porta-pantry. One day!
Uses This is supported by ZSA, makers of the Moonlander, ErgoDox EZ and Planck EZ keyboards. They also publish an awesome newsletter.