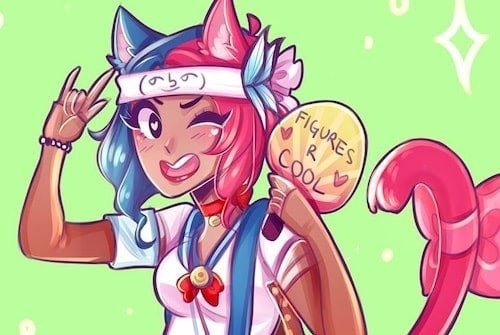 Kitto Katsu
Japanese pop-culture reviewer
Who are you, and what do you do?
I'm Kat, and by day I'm an IT project manager and business analyst. However, by night I create videos about anime figurines and other Japanese pop-culture items on YouTube as Kitto Katsu! I also run a website of the same name which has news, reviews and other announcements from the Japanese pop-culture scene, and administrate a website on collectibles called My Figure Collection.
What hardware do you use?
For my photography and videos I use a Canon EOS 650D/Rebel T4i with a Sigma 17-70mm f/2.8-4 DC Macro OS lens, a pair of umbrella lights and a Vanguard Espod CX 233AGH tripod. On occassion I'll use a muslin backdrop if I want a more neutral background for the footage (like in this video and in most cases I'll use a plain old wooden coffee table and a G Tool Mr. Turn Table. I've also made a custom turntable for items that are too heavy for the rotating display. On occassion I'll use the F&V R-300 LED ring light, and a Mini Portable Photo Studio.
For editing I'll use my desktop computer with dual Nvidia cards running in SLI, and for recording audio I use a Blue Yeti mic with The Pop filter or the Zoom H4n Handy Recorder.
If I'm away from my equipment and need to take photos quickly for Twitter updates and whatnot, like for major events, I'll use my handy-dandy iPhone 6.
And what software?
Software-wise, for editing I swear by Sony Vegas Pro for video and Audacity for audio recording and editing. For editing photography I'll use Lightroom or quick edits will be done using GIMP.
Other than that, because most of what I do is social media based, naturally I use Facebook, Twitter and Wix for my website.
What would be your dream setup?
My dream setup would definitely be having a dedicated studio for recording and editing videos without being bothered or bothering anyone around. Which I am currently in the process of setting up, thankfully!
But as for products themselves, I'd be adding soundproofing foam, a bigger light tent, a better podcasting station to have guests visit and record in person, and on the other side of things, have a big enough travel bag to carry all the important equipment for recording interviews externally.
And if we're going total dream setup, a Canon 5D Mk IV and EF 100mm f/2.8L Macro IS USM lens, and more lights in general.
If I could go as far as having anything, I suppose I'd happily ask for a full-time video editor as well! Haha.
Uses This is supported by ZSA, makers of the Moonlander, ErgoDox EZ and Planck EZ keyboards. They also publish an awesome newsletter.