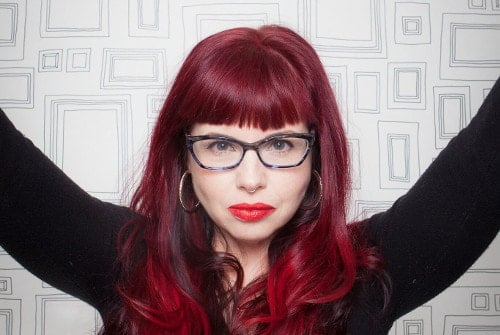 Kelly Sue DeConnick
Comic book, TV writer
Who are you, and what do you do?
My name is Kelly Sue DeConnick and I am a comic book and television writer.
What hardware do you use?
iMac (Retina 5K, 27-inch, Late 2014). iPhone 6 Plus. MacBook Air (13-inch, Mid 2013). ScanSnap Evernote Edition scanner (I LOVE this thing). Yeti microphone (for interviews and podcasts). Beats over-ear noise-cancelling headphones. Leuchtturn1917 notebook, an embarrassing assortment of pens, calendars, washi tape and stickers.
And what software?
Scrivener (with Antony Johnston's template) for writing comics. Final Draft for writing television. Mail for correspondence. Evernote for filing. Slack for team management and communication. Skype (which I hate, but I use it frequently because I'm asked to) for interviews and virtual appearances. Twitter for... I'm not sure what Twitter is for. Numbers for those rare occasions I have to produces a spreadsheet or an invoice. BusyCal for calendaring. NovaMind for mind mapping (which I use when I'm planning/developing a story - there are probably better options out there, this just happens to be the one I know.) Aeon Timeline - I only use this for one book (Bitch Planet), but it's really helpful for that book. SaneBox for email management - I love it desperately.
What would be your dream setup?
I'm pretty happy with my tools, I think? I hate Word, but I almost never have to use it. I hate Skype. Some version of Skype that was more dependable, would be part of a dream set up. OH I KNOW: a landline. I miss having a landline.
My dreams have less to do with my setup and more to do with having free time.
Uses This is supported by ZSA, makers of the Moonlander, ErgoDox EZ and Planck EZ keyboards. They also publish an awesome newsletter.