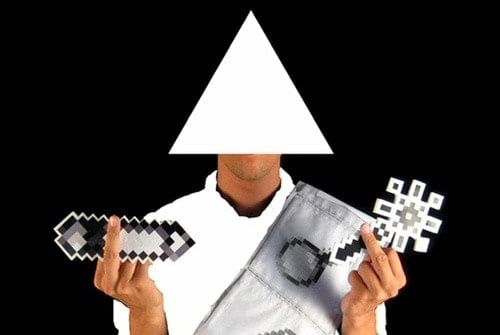 Jona Bechtolt
Half of the band YACHT
Who are you, and what do you do?
My name is Jona Bechtolt and I am a being of light and darkness. I deliver vibrations with my person and computers. My body is based in the Pacific Northwest of the United States of America, but through the internet I am universal.
What hardware do you use?
I have two computers -- three if you count the iPhone, which you probably should. The first computer is a 24" aluminum iMac that has been taken apart twice by a mildly sweaty, mouth-breathing man from El Paso, Texas. I use this computer when I'm at home, which hasn't been very often over the past year since I bought it. The other computer I use is a new aluminum MacBook with the light-up keyboard. It's my very favorite laptop I've owned thus far, and I've had every small-sized laptop Apple has made since the original white G3 iBook. This includes a 12" PowerBook G4, a 12" iBook G4, an original Core Duo white MacBook, a revision A MacBook Air, and, lastly, a Penryn black MacBook.
I've never had the luxury of exceptional audio hardware, for one reason or another. My current setup is an Audio Kontrol 1 USB audio interface manufactured by Native Instruments. I use this in conjunction with a $59 condenser microphone to produce and record music. I play traditional rock n' roll instruments into the microphone, then interface, then computer. A more detailed list: Fender Musicmaster electric guitar, Fender Bronco bass guitar, microKorg keyboard, generic drums, and various broken and/or cheap percussive instruments, ranging from tambourines to a pellet drum.
For video and photo documentation, I've used point-and-shoot Canon cameras for the past four years. Right now I have a PowerShot SD1000. I've always liked the video quality these little cameras spit out for making tour videos, etc. This most recent model has my favorite shape and size yet.
And what software?
For making music I use Ableton Live 7, free AU and VST plugins by various Smartelectronix developers. I've been using the mda plugins since I've been using Live. I also really like Audio Damage plugins, which I've pirated. Sorry guys! I think I bought one a while ago? Sometimes I use Reason 4 for certain soft-synths, or sampled keyboards I downloaded a long time ago. I also stole Reason. I used to use Peak for stereo editing and mastering, but it got harder and harder to find a crack for it. While I was working on "Magic" my cracked version of Live stopped working and I finally had to buy it.
Does all this piracy make me a bad person?
For video I use Final Cut Pro, Apple Motion, Adobe Flash, Photoshop, and Illustrator.
For making websites I use Photoshop, Coda, and Transmit.
For making prints I use Adobe Illustrator, Photoshop, and InDesign.
For downloading "files" I use Unison, Transmission, binsearch, and PizzaTorrent.
What would be your dream setup?
Wow, this is a cool question. I think I have it? I love consumer-grade computers. I don't think I would get much more out of a 30" Cinema Display and a quadrillion-core MacPro. I would like to have a better desk and chair, though. My friend Flint builds really beautiful furniture for himself. I would love to have a desk on giant casters, some sort of cable management system, and everything always plugged in and ready to go. The same goes for audio stuff; I wish I could have everything connected and ready to record instead of having to move my single microphone around all the time.
Thank you for asking!
Uses This is supported by ZSA, makers of the Moonlander, ErgoDox EZ and Planck EZ keyboards. They also publish an awesome newsletter.