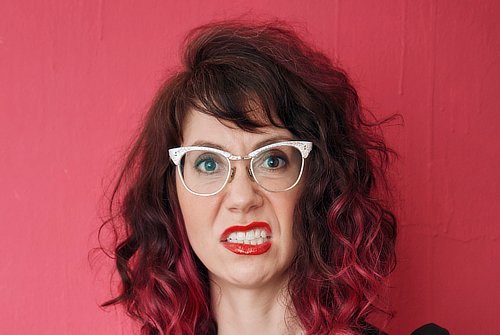 Elissa Bassist
Editor, writer
Who are you, and what do you do?
Hi, I'm the editor of the "Funny Women" column on the online literary magazine The Rumpus and the author of the award-deserving memoir Hysterical (published by Hachette).
As a founding contributor to The Rumpus, I've written cultural and personal criticism since the website launched in 2009. My writing has appeared in The New York Times, Marie Claire, Creative Nonfiction, and more, including the anthology Not That Bad: Dispatches from Rape Culture, edited by Roxane Gay.
For 15 years I've worked as a freelance writer, editor, instructor, academic, performer, improviser (sorry), and critic. Now I teach tragicomic writing at The New School, 92nd Street Y, Pandemic University, Lighthouse Writers Workshop, and elsewhere, and I am probably my therapist's favorite.
Also, I have many, many matches on Hinge.
What hardware do you use?
I'm the proud owner of an outdated MacBook Air that no longer updates software. Due to my aging neck, I keep it on a Roost stand and use a wireless mouse called Jelly Comb and a wireless external keyboard called Kinesis Freestyle2 Blue. (I did not name these devices.) (I did name my iPad "iPadollonia" all by myself early in the pandemic.) I use the laptop most often at home or in my office, which is also the New York subway system, where I do my best work because there's no WiFi.
Back to my aging neck. At home I switch between my laptop and an iMac with a million-inch screen that was supposed to fix my posture/body, but it hasn't.
Recently, for online interviews to promote my book (Hysterical by Elissa Bassist), I bought a UBeesize ring light (still unused) and a recommended Samson mic and AirPods. And not to brag, but I have a printer-scanner-copied at home that works almost 80% of the time. Also! As every writer should, I have a SAD lamp for winter, when my regular depression meets seasonal depression.
And what software?
To write, I toggle between Microsoft Word and Scrivener. I will warn that Scrivener exacerbated, if not caused, my diagnosed Obsessive-Compulsive Disorder.
I wrote an essay about it for Literary Hub and will now quote myself:
"Before you quit," my psychopharmacologist offered, "get treated for obsessive-compulsive disorder." For what? I didn't have that. I had Scrivener. But the psychopharmacologist disagreed. She believed that it wasn't Scrivener and that I didn't have writer's block—I had a mental illness, OCD.
The psychopharmacologist's evidence that I'd provided: It took me 11 years to write and rewrite one book. Which, again, was actually Scrivener's fault.
For sharing documents and for editing humor pieces and students' work, I use Google Docs and am not at peace with it.
What would be your dream setup?
I've been learning how to practice gratitude, so I'll say it's the setup I have now: two desks in separate locations of my apartment. One is an antique desk for sitting down with my laptop. Another is a hypermodern standing desk that has a motor and charging station that I saw on TikTok (it's from Costco) for my Mac desktop that I got for free.
Uses This is supported by ZSA, makers of the Moonlander, ErgoDox EZ and Planck EZ keyboards. They also publish an awesome newsletter.