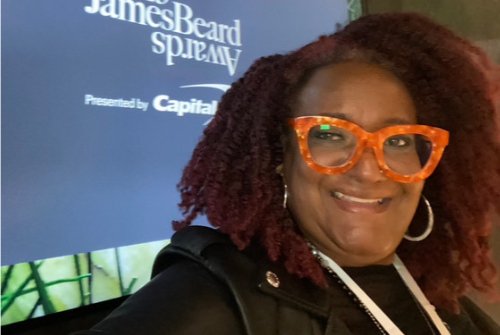 Dr. Psyche
Culinary historian, writer
Who are you, and what do you do?
Hi! I'm Dr. Psyche Williams-Forson, aka Dr. Psyche, aka Dr. PWF, and what I do is profess to know stuff about food, gender, race, class, and culture, especially material culture like food and foodways of people throughout the African Diaspora. I'm a writer and a thinker, and I also get paid to chair a department at the University of Maryland College Park. That's what I do. Who I am is a daughter, a friend, and a member of Delta Sigma Theta Sorority, Inc. I'm really also a PhDMom, aka a part-time photographer (or is this my real job?) for my young adult daughter. Because if she is with me, I'm taking her picture - on portrait and landscape - thanks iPhone.
What hardware do you use?
MacBook Pro. And, I've been corralled into an iPhone by said daughter because "Mom, now we can FaceTime" and, of course, take better pictures. Said iPhone is also my go-to for listening to books on tape (thank you, local library Libby app) and for meetings, keeping my calendar, checking email, and conducting all kinds of impromptu interviews. Because you never know when a family member or friend will launch into a new story that is usable. When I super have my act together, I use a Zoom H1N Handy Recorder, with a one-touch button and a VidPro Lavalier condenser microphone, because the voice recorder app is not reliable. After doing yet another podcast in what looks like a dark tunnel, I was convinced of the need to buy a Weilisi 10" ring light. They wanted me to buy three but do I need that much light?
I backup everything relentlessly with a 2 TB WD Elements external hard drive and I thank Time Machine for the constant reminders of my dereliction. A wonky large LG flatscreen TV gives me access to lots of pop culture fodder, and a smaller, wonkier one does the same in my home office. I live on the edge with both Verizon cable (software?) and an Amazon Fire TV Stick, with no usable remote - enter said iPhone and the Fire TV app. My ultimate, can't live without hardware, are my many bookshelves - maybe 6 or so that hold my books, all of which I have held in my hands, even if I have not read them in all in full.
And what software?
I'm a Google user, although I hate Gmail. Bring back Outlook. Google Docs and Google tabs compete for space on multiple email accounts. When I need to scan something in a pinch, Tiny Scan comes in clutch. Then I use the usual - Adobe Acrobat and Microsoft suite - mostly Word and PowerPoint. I hate Excel but will use it when the business people need me to read a file or three. To send large video and visual files I use Hightail or Google, both get the job done well. Hightail is also great for sending secure docs. These days, grad students will text me so iMessage is key, but also Facebook Messenger. Zoom has replaced Skype in my world of things and Siri comes in when you need the handsfree option. When I'm writing, Grammarly is amazing, and annoying, at the same time. And though I'm still trying to find the best way to manage citations, Zotero is a frontrunner for my next project to organize my data.
To keep my sanity, I use game apps - Spades Plus rules! But also Royal Match, Dropdom, Woody Battle 2, and Uno. Gin Rummy, Match Triple 3D - I probably should be embarrassed at the number of games I play but I'm not. Words with Friends 1 just gave me two words that scored 549 points and 446 points and now I'm on a mission, which really is just a matter of some well-placed high point value tiles. I can do this!!!! Match Masters and Toy Blast work when I'm flying and nothing else will talk to Southwest WiFi. I have to play at least a game of Spades (best out of three), before I can start working. It's a ritual that started in graduate school along with early morning meditation via YouTube and iTunes to ground myself and prepare for the craziness of the day. And when I want to work deeply, I need Netflix for background noise, though Prime and BritBox do a great job of providing necessary visual sustenance.
What would be your dream setup?
A corner condo unit overlooking the Potomac. I want to be a minimalist but my life as a material culturalist screams maximalist. Like, why am I thinking about getting a workstation desk bike? Because I just don't have enough unused exercise stuff in my house (I really don't) but THIS, THIS I will use, especially in my dream space, which will have lots of room for me to fill with "stuff."
Uses This is supported by ZSA, makers of the Moonlander, ErgoDox EZ and Planck EZ keyboards. They also publish an awesome newsletter.