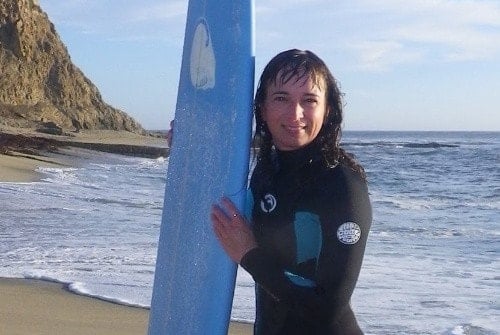 Cynthia Krueger
Patent agent, freelance writer
Who are you, and what do you do?
My name is Cynthia Krueger. I'm a patent agent and freelance writer living eight blocks from the beach in San Diego. At the start of 2014, I decided to break free from a corporate cubicle and make my own way in the world. In a sense, this is my third career, following many years as an aerospace engineer with a brief interlude as an attorney.
Before making the break, I wrote numerous unpaid articles about surfing, women in surfing, and the environment for The Inertia. Now I contribute to Mpora Action Sports Network and a local weekly in San Diego, and also write patent applications. In my free time, I surf, blog about surfing, swim, skateboard, and volunteer for the San Diego chapter of Surfrider as a co-chair of the Rise Above Plastics committee.
What hardware do you use?
Most of my writing is done on a Mac Mini, circa 2011. If I'm out and about, I take notes on a newish Sony Xperia Z tablet. My HTC One S phone is getting a bit slow, but it's still useful for recording interviews. As a backup, if I ask nicely, my husband lets me use the PC he put together from parts several years ago.
I have a Martian smart watch, although it doesn't get much use now that I'm not going to an office every day. Occasionally I go surfing with a Panasonic Lumix TS4 to take photos and videos for my blog.
And what software?
My Mac's just been upgraded to OS X 10.10 Yosemite, somewhat regrettably. The U.S. Patent and Trademark Office is as behind the times as you'd imagine a government office would be, and the upgrade has broken my ability to access their EFS-Web system for filing patent applications. The PTO requires not only the use of Firefox or an older version of Safari instead of Chrome, but also Java running in unsafe mode. Fortunately, their system still works in Windows 7 on that backup PC.
The tablet and cellphone are both running Android, 4.4.4 Kit Kat and 4.1.1 Jelly Bean, respectively. Microsoft Word is what I use for writing on the Mac, and on the tablet, there's Google Docs. I suppose if I'd gone all in on Apple, I'd use more of the native software on my Mac, but I'm pretty deep into the Googleverse instead.
Virtru is a Gmail add-on that encrypts the email I send to patent clients, and Boomerang is another add-on that pops email back to my inbox as a reminder. Google Drive is handy for sharing files between devices and with collaborators. My browser is Chrome - unless I have to interact with the PTO - and my blog is hosted by Blogger. I've got Smart Voice Recorder on my phone for taking interviews.
What would be your dream setup?
Could I have the system from Minority Report? I'd love to be able to just talk to the computer and move floaty things around with my hands.
Uses This is supported by ZSA, makers of the Moonlander, ErgoDox EZ and Planck EZ keyboards. They also publish an awesome newsletter.