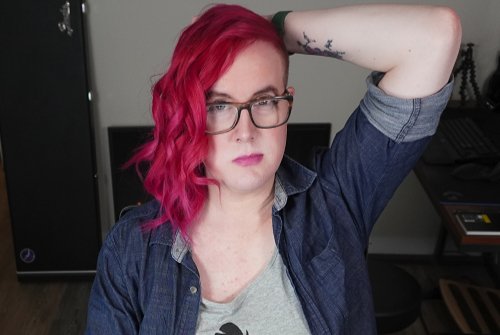 Christina Pollock
Game developer (Call of Duty)
Who are you, and what do you do?
My name is Christina and I'm a game developer. I'm currently a programmer on Call of Duty, but how I got here is really weird. My work history includes esports, media, photography, consulting, and the music industry, which explains...
What hardware do you use?
My setup is also really weird. I use a Windows 10 PC with an AMD 3900X, 64gb of RAM and an RTX 3080. Three monitors, a 144hz Asus PG278Q in the middle and two 27" Asus ProArts flanking it - one switches between vertical and horizontal, depending on what I'm doing. Input-wise, there's a SteelSeries Apex Pro TKL, a Razer Viper, an Elgato Stream Deck and an XL, and a 15" XP-Pen graphics tablet.
For a webcam I've got a Sony ZV-E10 with the 16-50mm kit lens, backed up by a pair of Elgato Key Lights and an array of Philips Hues of various kinds, for any lighting conditions I can dream of. Unfortunately the USB webcam mode has latency and is fiddly so I back that over HDMI into a Razer Ripsaw HD, which is the best consumer capture card I've ever used.
Audio interface is a Focusrite Scarlett Solo for guitar, bass, and either a RØDE NT1-A or a Behringer XM8500 mic, depending on need. Secondarily there's audio and midi input from a Roland SPD-SX SE drum pad with a pair of KT-10 kick triggers. For musical MIDI input there's a Novation Launchpad X, a Launchkey Mini, and a Casio CT-S300 for two-handed piano input. The main guitar is an Ibanez RG752WMFX-OL seven string, bass is a Fender Precision Highway-1, Norman B16 for steel string acoustic, as well as some six-string electrics: A Korean '96 Ibanez SV420FM and a Mexican Fender Strat. All these combine into a pair of Mackie CR3-X monitors which saves the use of a mixer, and for headphones there's Denon AH-D5200s.
I also use a RØDE NT-USB Mini and a Logitech Pro-X headset when I need to keep things simple, and a Razer Seiren X, and wireless Pro-X for travelling.
For broadcast, there's a Mackie ProFX8 v2, three Audio-Technica BPHS-1 headsets, an Akitio Node Lite Thunderbolt PCI-E dock with a Magewell Quad HDMI in it, all fed into a 2021 Razer Blade Advanced 15". That's an i7-11800H, 16gb of RAM, and an RTX 3060. Video there's a Canon XA20 for the main camera, and a pair of Sony CX-305s for personal aside closeups. And of course a pair of Elgato Stream Decks - one XL, one regular.
For backend service development I use a Lenovo ThinkPad P15S Gen2, same spec as the Blade but with 32gb of RAM and an RTX A4000, which is roughly 30% more powerful than the 3060.
For photography, I'm still rocking my oldest gear. Canon 1D Mk3 and a 7D Mk1. Wide selection of glass but mostly the 24-70mm F/2.8L, 11-40mm F/4L, 300mm F/4L and a Sigma 150-600mm F.5-6.3. Embarrassed to say my old favorite F/1.4 50mm does not see much use these day.
And what software?
Software! VSCode with WSL2 and Docker Desktop for all my Python needs (infrastructure, scripting), and Visual Studio 2019 for game engine code. For prototyping I use Unreal, and for writing I either use Twine for structure/flow or Scrivener for getting real work done. For audio, Reaper, and for video, Davinci Resolve. For live broadcast, a combination of vMix and OBS, depending on the task. Even though I absolutely resent Adobe, I'm still using Photoshop and Lightroom for photos.
For guitars I like Archetype: Gojira VST and Darkglass for bass.
What would be your dream setup?
This, but in a cabin in the woods.
Uses This is supported by ZSA, makers of the Moonlander, ErgoDox EZ and Planck EZ keyboards. They also publish an awesome newsletter.