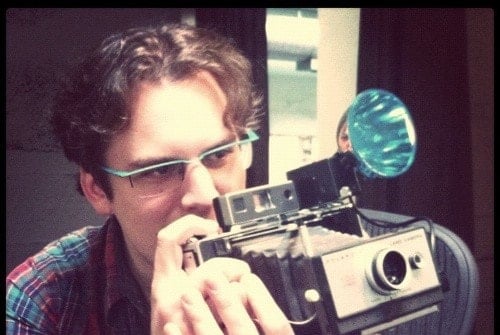 Mike Krieger
Co-founder of Instagram
Who are you, and what do you do?
I'm Mike Krieger, and I'm the co-founder of Instagram, a mobile photo-sharing network. My background is in Human-Computer Interaction and User Experience, but through the twists and turns of start-up life I spend most of my time scaling our systems to keep up with our user growth. I was born & raised in São Paulo, Brazil, but now live in San Francisco, right next to Alamo Square Park.
What hardware do you use?
We just got new iMacs for our team -- 3.4 GHz with 16 GB of RAM. It's by far the fastest machine I've ever owned; our compile time for Instagram went from 100 seconds to about 10 secs, and our Django unit tests run in an tenth the time as well. In a word: awesome.
Peripherally, I use a Magic Trackpad and a Microsoft Natural Keyboard 4000 -- it's the keyboard I've been using for the last 7 years, and I'll keep buying them for as long as they make them.
Startups are a twenty-four-hour endeavor, so on the go, I have an 11" 2010 MacBook Air with a Sprint 3G/4G card (though 4G is scarce in SF). We call them our mobile command centers -- we take them just about everywhere in case any server issues break out. Since we're a small team, we're always on call -- which means I'm never more than a few feet away from the Air, and it's with me even when hiking or on long bike rides into Marin. Lion's full-screen mode really shines on the Air, and it's fast enough for the occasional iOS development on the weekend. Speaking of the bike, I ride a Fuji Roubaix 3.0 to work, rain or shine.
Like most iOS devs, we have our own collection of old phones, to keep up our test coverage across devices & versions. I loved my iPhone 4, but it recently took a plunge from a shelf above my sink into a glass of water, and no amount of leaving it in rice could rescue it. So I joined the ranks of those with mysterious October iPhone 4 catastrophes, and now am rocking a 4S... with a slightly more waterproof case. I own a 3rd generation Kindle, though I don't have nearly as much time to read as I'd like.
For music, I used to wear my Grado SR-60s in the office, but they leak too much to work well in a small office, so I switched (after reading Marco Arment's recommendation) to a pair of Sennheiser HD280s, which I love. We also have a Bowers & Wilkins Zeppelin in our office, which we use to stream music throughout the day using AirPlay & AirFoil.
Daily fuel comes from our Chemex coffee-maker combined with Sightglass, Blue Bottle, or Intelligentsia beans.
Finally, all of our startup runs on Amazon EC2, which means we never have to visit data centers to install & maintain servers.
And what software?
I spend most of my day in MacVim and XCode. Every few months I'll try switching from vim to something else, but it's never permanent (recent adventures include Sublime Text 2, Vico, and Kod). But old habits die hard, and I usually end up back in the comfortable modal arms of vim. If I could navigate everything on my computer with vim bindings, I would -- I use Vimium for Chrome and gleeBox for Safari.
When I'm in XCode, I always have Accessorizer open alongside. It took my least favorite parts of writing Objective-C -- repetitive property declarations, @synthesizes etc -- and made them a one-click shortcut away. Smaller apps have a place too: XScope helps me get the pixels just right, and CodeRunner helps us prototype code snippets quickly.
My non-coding apps are pretty simple: Carousel for keeping up with Instagram feeds on the desktop, Twitter for Mac, Sparrow for email, and Chrome for browsing. I've settled on Rdio as my music service of choice - no one else is getting the social aspect even close to right.
I'm a task list app junkie, and I've been a Things, OmniFocus, and TaskPaper user at several points. What ultimately won my heart was the Potion Factory's The Hit List, especially with the release of the iPhone app. The sync works perfectly, and it has just the right amount of structure for the way I work, plus great keyboard navigation. Non-digital notes go straight into a Field Notes notebook.
On the iPhone, besides whichever current beta version of Instagram we're playing with, my home screen features Tweetbot, the Hit List, Reeder, Rdio, and Simplenote. I'm not a huge iPhone gamer, but Shaun Inman's The Last Rocket is a recent favorite of mine.
What would be your dream setup?
Syncing the desktop & laptop is still a pain, even with Dropbox and shared GitHub repositories. I'd love to bring my Air into work, slide it into the back of a Cinema Display-plus-8-core-processor contraption, and code the day away.
Uses This is supported by ZSA, makers of the Moonlander, ErgoDox EZ and Planck EZ keyboards. They also publish an awesome newsletter.