Who are you, and what do you do?
My name is Mel Stringer, and I'm a freelance illustrator and visual artist. I'm originally from Australia, but I'm currently based on Whidbey Island, just outside Seattle. I draw a lot of cute curvy women, personal portraits and autobiographical diary comics.
I'm also trying to get back into making music again under the name Golden Puppy.
What hardware do you use?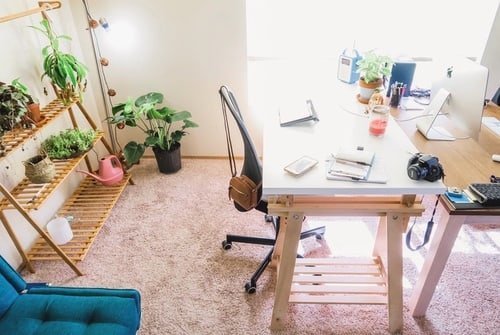 Currently I am in-between worlds with my iPad 9.7" and Apple Pencil and I use an Apple iMac with a Wacom Cintiq 22 that I just got. Two very different pieces of equipment, but I love them both!
I also use an iPhone 8 Plus.
As for music, I just ordered the Zoom H6, so I'm excited to try that out for audio recording.
I also use a Canon 600D (with a small Rode mic that can be plugged in) and a Canon G5 X for photography and videography.
And what software?
Procreate on the iPad. Adobe Photoshop and Indesign on the iMac.
I also love VSCO on the iPad/iPhone, Photoshop and Lightroom for photography editing.
Lumafusion and VSCO on the iPad and Premiere on the iMac for video editing.
What would be your dream setup?
This is a great, but difficult question because while I would be so happy to have a large setup with everything I could ever want, I feel like I would much rather have a more minimal setup. This would mean things are more portable and interchangeable. As long as what I have does the job well and efficiently then I am happy.
I wouldn't mind a large scale printer for making archival art prints from the comfort of my home, but I am equally as happy paying someone else to do that for me.
At the end of the day, I think having more space to work in and be creative in is what I would like the most. I have ample space now, but realistically I have everything that I could need right at the moment.
I could always upgrade but I feel like so much can be done with what I already have.
Uses This is supported by ZSA, makers of the Moonlander, ErgoDox EZ and Planck EZ keyboards. They also publish an awesome newsletter.