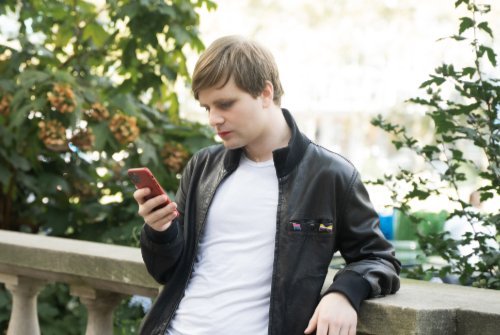 Matthew Bischoff
Software designer and developer
Who are you, and what do you do?
I'm Matthew Bischoff (they/them), a software designer and developer in New York City. I co-founded and help to run Lickability, a small studio where we craft delightful apps for our clients and ourselves. A few times a year, I'll give a talk at a conference or appear on a podcast about the work I do.
In my spare time, I enjoy mixing classic cocktails, going to the theatre, reading and editing Wikipedia, and volunteering with Trans Lifeline. I'm proudly bisexual, trans, and nonbinary. Oh yeah, and one time I was on Jeopardy!
What hardware do you use?
Most of my work takes place on my 16-inch Intel MacBook Pro in Space Gray which is spec'd out with a 2.4 GHz 8-Core Intel Core i9, 32 GB of RAM, and 2 TB of flash storage. It's connected to an LG UltraFine 5K Display, Magic Keyboard, Magic Trackpad, and a RØDE Podcaster when I'm guesting on podcasts.
I'm lit by an El Gato Key Light Air, write with a Pilot Hi-Tec-C or Lamy 2000, and keep track of my daily writing habit with the Every Day Calendar. All of these objects are often within reach on my Artifox Desk 01 or sometimes packed in a black leather Hard Graft backpack.
When I'm out and about or (more often these days) lounging in my apartment, I use a Pacific Blue iPhone 12 Pro or a Space Gray 11" iPad Pro to check-in on social media and get work done and a Kindle Voyage to read books.
I'm most often wearing a pronoun pin from Gamut Pins, a 44 mm Stainless Steel Apple Watch Series 5 with a Solo Loop band in Deep Navy, Tom Ford lip color in Cherry Lush, Glossier Boy Brow in Clear, Escentric 03 perfume, denim from Nudie, and Atoms sneakers. I carry AirPods Pro plus my cards and keys in a wallet and pouch from Hard Graft.
Pleasure is as important as work. I brew coffee from Bottomless ground by the Baratza Virtuoso with a Chemex, tea from Harney & Sons in the Joey Roth Sorapot, and mix cocktails with equipment from Cocktail Kingdom. My sex toy collection is extensive, thanks in part to being married to a sex blogger who always knows what's good; I like the stuff from Njoy and Fun Factory.
And what software?
I have an often obsessive, love-hate relationship with software as someone who's been using it and making it for most of my life. I feel like I've tried it all, with 242 applications currently on my computer and 465 on my phone. Here are just some of the things I use technology to do and the apps I use to do them:
Work
Creation
Consumption
Miscellaneous
What would be your dream setup?
Technology that serves us, rather than the other way around. Hardware that just works™ consistently, without all the fuss. Software that is fast, designed for the platform it runs on, and gets out of the way. In a phrase, don't make me think.
Uses This is supported by ZSA, makers of the Moonlander, ErgoDox EZ and Planck EZ keyboards. They also publish an awesome newsletter.