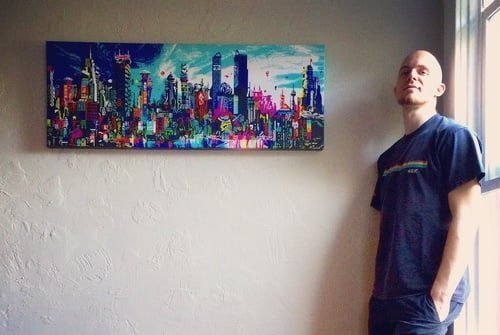 Matej Jan
Pixel artist, game developer
Who are you, and what do you do?
I'm Matej Jan, a pixel artist and game developer, better known online as Retro or by my company/blog name Retronator. I'm developing a game called Pixel Art Academy, an adventure game where you become an art student and learn how to draw. I'm a solo developer so I wear a lot of hats - well, all the hats. I studied Computer Science and Education in school while learning how to draw on my own. I wasn't able to go to art school so I want to give a chance to everyone who can't do it in real life to do it in my game.
What hardware do you use?
I've been a digital nomad for 3 years now so all my life fits into a suitcase and a backpack. To travel light like this I rely heavily on my 13" iPad Pro which servers as my drawing tablet, design notebook, book reader, second display and more. My main workhorse is a 15" MacBook Pro that extends the desktop to the iPad with a Luna Display. I live happily in the Apple ecosystem so I also have an iPhone XS, Apple Pencil, Magic Mouse 2, and AirPods. For movie editing where I need more disk space and quick read/write operations I plug in WD's My Passport 512 GB SSD drive, whereas the 2 TB WD Elements acts as storage for footage and finished videos.
And what software?
Most of my time is spent in WebStorm where I code my game in CoffeeScript (the game runs in the browser on top of the Meteor platform). I'm very fond of TextExpander, a tool for quickly typing out longer text simply by typing its shortcut. I use this extensively in online interactions as well since I have all my social media URLs and other useful links bound to TextExpander shortcuts.
By now I've written most of my own tools to create pixel art, especially 3D Paint, a program to draw pixel art and automatically convert it into a 3D model. Previously I've been a long-time GIMP user, and when I draw pixel art on the iPad I use Pixaki. To draw concept art on the tablet I use Linea Sketch and I take notes with Penultimate (which syncs to Evernote).
I make a lot of GIFs (to post on social media) with GIF Brewery as well as taking video footage directly with QuickTime. I edit with iMovie, which I'm in love with for its power/simplicity ratio and the fact that it's free. For streaming on Twitch I use OBS.
Special shoutout to Living Worlds, the most beautiful pixel art screensaver ever, as I always have it running on my iPad when it's not in use.
What would be your dream setup?
Before I quit my day job to become an indie developer I had a 27" iMac at work and I wouldn't mind returning to that setup. But as a digital nomad, my current setup is pretty much perfection. I'd upgrade my MacBook Pro to the latest model and add an external GPU so I could finally play Star Citizen at more than 10 FPS.
Uses This is supported by ZSA, makers of the Moonlander, ErgoDox EZ and Planck EZ keyboards. They also publish an awesome newsletter.