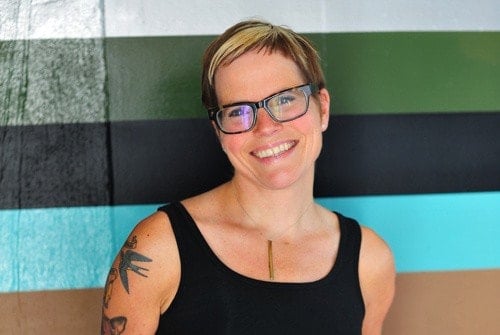 Lisa Congdon
Artist, illustrator
Who are you, and what do you do?
I'm Lisa Congdon, and I am a fine artist and illustrator. I make most of my living as an illustrator of books, but I illustrate a lot of other things too. I paint, draw, collage and hand-letter, and I also design repeat patterns for things like wallpaper and fabric. I also keep a blog about my work, my life and things that inspire me.
What hardware do you use?
I use an iPhone, a 2011 iMac with 21 inch monitor (and an Airport Time Capsule backup system), a 2012 MacBook Air, an Epson V700 Scanner, an Epson Stylus Pro 3800 printer (I sell archival quality prints of my work), a Wacom Intuos 3 Tablet and I own and use a Nikon D5100 camera. I can't mention all of that without also mentioning the most important hardware in my life: my paint brushes (I tend to use really cheap brushes because I go through them so often!), paint (I use Acryla Gouache), pencils (I've partial to regular #2 pencils, but I also use a Pentel Twist Erase mechanical pencil for detail work), Lineco Archival Glue, Micron pens of every size, paper (too many kinds to name, including found vintage paper), and whatever good quality canvas, masonite and wood panels I can find on sale.
And what software?
I use Adobe Photoshop and Illustrator for my illustration work. Most of my work is hand drawn, and even what ends up in vector starts as something I drew with a Micron on paper! I use Photoshop to clean up my work after I scan it, mostly. I use Wordpress for my blog; I have a fantastic developer who maintains the back end. I'm not super tech savvy, I love how easy Wordpress is to use. I love Twitter for connecting with people, promoting my work, sharing inspiration, and occasional rants. I also use a Facebook fan page to share what I'm up to. I use Gmail + Google Docs for life in general. Google spreadsheets keep me organized! I use Etsy and Big Cartel to sell my work online.
What would be your dream setup?
I am pretty happy with my current setup. As someone who does detailed touch-ups in Photoshop, I'd love an updated iMac with a big 27 inch monitor. I also dream of a large format scanner so I don't have to scan my work in parts and piece it together. I'm just waiting for a company to invent a great scanner for artists that is large format and relatively affordable. Also, I really need to get my hands on a Bamboo Wacom Tablet! That might be my next purchase. And while we're at it, for all this stuff I'll need a larger desk, of course. At the top of my dream list? Something "old school": Huge flat files to store my original work.
Uses This is supported by ZSA, makers of the Moonlander, ErgoDox EZ and Planck EZ keyboards. They also publish an awesome newsletter.