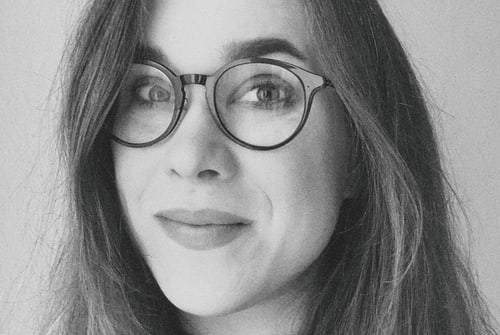 Lena Reinhard
Director of Engineering, CircleCI
Who are you, and what do you do?
My name is Lena Reinhard. I'm based in Berlin, Germany. After a career in finance, arts, and media, I got into tech, co-founded a software company, and became a CEO. Ever since, my main focus has been supporting distributed engineering organisations around the world, currently as Director of Engineering at CircleCI.
I love working with people and helping build organisations where they can learn, grow, and thrive and deliver great products together. I really enjoy being organised, and helping organisations get organised through structures, processes, and frameworks has become a focus of my career.
I'm also a public speaker, writer, and photographer. I like reading books, petting dogs, hiking in forests, making pizza and bread, I play the violin and am slowly learning to play the piano.
What hardware do you use?
Let's start with work:
My desk is two wooden trestle legs with a former bed frame part as the tabletop. On the desk, I have:
My MacBook Pro 2018, 13", is a very good laptop for all I need, and handles those days with lots of open applications and endless browser tabs very gracefully.
I'm considering getting a second Dell UltraSharp Monitor U2415, for extra-large spreadsheet editing.
I'm in a lot of virtual meetings, and the Logitech C920 HD webcam helps me be there.
The Apple Magic Keyboard is bad for my hand posture and I dislike the tactile experience, I need to make the time to find a new keyboard sometime.
I got the Logitech M570 trackball years ago when I had issues with my hands and wrists and like it a lot, especially the trackball is great (I love a speedy mouse).
Using my Bose SoundSport In-Ear Headphones for meetings, of all things, is very ironic, but they're really great for this purpose: the soft ear pieces make them great to wear for long stretches of time.
For my personal & freelance work:
I have a MacBook Pro 2015 which I got for my freelance photography & writing work. It's unfortunately long beyond its hay days, and the amount of bugs make it really difficult to edit pictures with it at this point.
I use an iPhone XS with a pair of Sony MDR earphones for music and phone calls.
End of last year, I got my first tablet, an iPad with a pencil (the latter being the main reason I bought it), and use it a lot, mostly for note-taking, drawing, and watching TV shows on long flights. I'm on a plane right now and writing this post on the iPad.
Whitelines notebooks are beautiful and make writing so much nicer.
Pan: Lodge Cast Iron Combo Cooker makes bread baking and making pan pizza so much fun.
Knife: I got a Swiss Army Camper knife as a present over 20 years ago, and it still accompanies me on every hike.
Camera: A Canon EOS 6D, with my favourite lenses (50mm 1.4, 35mm 2.0), has been a trusted companion for many years.
By far the chunkiest piece of hardware I own is my piano, a Kawai CA58, which I enjoy very much. It's a lovely instrument and being able to practice at 11:30pm at night, while still staying friends with my neighbours, is only one of its many nice features.
Bag: I carry things around in Frank by Aly Capellino, and it goes very smoothly from grocery shopping, to work meetings, to bike trips, to travels.
Suitcase: I travel quite frequently for work, and a Samsonite Neopulse Spinner in S travels with me.
And what software?
What would be your dream setup?
I'm pretty content with this setup – my only annoyance is the amount of cables on my desk (mostly for aesthetic reasons). Otherwise, a small wish list:
A height-adjustable desk would be fabulous. I sawed a few centimetres off the trestle legs on my desk recently and accidentally sawed off one leg twice (the first time I saw the real version of the German proverb "zweimal abgesägt und immer noch zu kurz" ("sawed off twice and still too short"). Since my desk is now held up by a pile of books underneath this leg, I think it might be time for a more stable setup.
An ergonomic mechanical keyboard: I'd love to find one of those, but so far haven't had the time to look into them yet. It would be great to get one with a German layout, since I work in English, but learned typing on a German layout typewriter, and have set all my (by default English) layouts to German, which is very confusing.
A smaller camera. I wish my camera was everything that it is, only smaller and more portable.