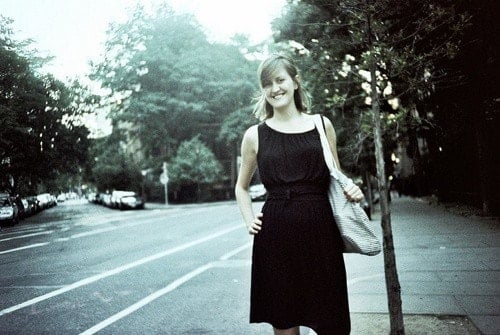 Laura Brunow Miner
Editor, designer, event inventor (Pictory, Phoot Camp)
Who are you, and what do you do?
I'm a tall lady living with her husband and four-legged children in San Francisco. I love design, photography, storytelling, friendship, good food, and summer. I founded online photo documentary magazine Pictory, and creative retreats Phoot Camp and Eat Retreat. Day to day, I do design, photo and text editing, event planning, writing, etc.
What hardware do you use?
I use a banged up Apple laptop and an external cinema display. I've got the ugliest iPhone case on the market, the Otterbox, protecting my iPhone 4 from my destructive nature. I'm sort of like Pig Pen from Peanuts (but with better personal hygiene) so I pick hardware that's indestructible. I borrow a Canon 5D Mark II from photo friends occasionally but don't trust myself with one. I shoot with a sturdy 35 mm Lomo LC-A+, or a Canon underwater point and shoot, or my iPhone.
And what software?
For Pictory:
For photo curating, I have an awesome custom admin built on Django by Jeff Croft. It makes it really easy for me to view and sort the captioned photo submissions that I get. For photo editing, I use Photoshop. (A lot of my photo friends use Lightroom but I've been using Photoshop since high school and love the control.) For text editing I use Google Docs. I host a companion blog to Pictorymag.com on Tumblr. I designed Pictory using InDesign (publication design habits die hard). I track my traffic using Mint.
For Phoot Camp and Eat Retreat:
I don't know what I would do without Google forms and spreadsheets. Planning an event requires solving a series of logic problems and these help a lot. I've used Doodle to compare availability for different dates. I've recently gotten really into Facebook groups for planning (before) and staying in touch (after) a creative retreat. It works great and really keeps the group tight knit, without tons of inbox clutter. I have a blog for Phoot Camp on Tumblr. I use Virb.com as a website-building platform for my retreat sites. (Full disclosure: they have sponsored two Phoot Camps, but I'd rave about the service even if they didn't!)
For fun:
I use the following iPhone apps: Instagram (addicted), Kindle, This American Life, TED, Rdio, Dog Park Finder. I use Things to keep track of the managed chaos that comes with event planning, Adium for chat, and Chrome as my browser. I keep track of my extended photo family on Flickr, and get design inspiration from Dribbble, and keep track of new music on Rdio.com.
What would be your dream setup?
Since I'm typing this on day 9 of an RV trip across the southwest (to Phoot Camp 2011 in Marfa, Texas, and back) I have a specific angle on this question. My dream setup would be a 30-foot RV with a built-in wifi hotspot, bolted down external monitor, hood-mounted Go Pro camera, giant windows, hammock, swivel chairs, gas range, fridge, dishwasher, full length beds, and a killer sound system. This is my first road trip across the country and I've fallen in love with it!
Uses This is supported by ZSA, makers of the Moonlander, ErgoDox EZ and Planck EZ keyboards. They also publish an awesome newsletter.