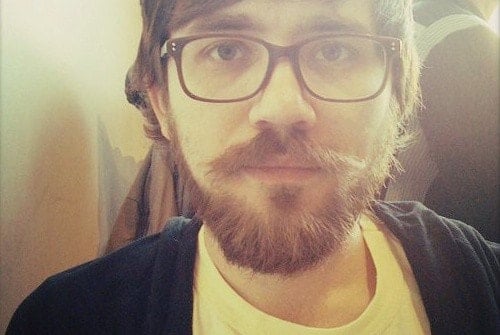 Kris Piotrowski
Creative director and co-founder (CAPY)
Who are you, and what do you do?
Kris Piotrowski here. I'm the creative director and co-founder of CAPY, an indie game studio in Toronto, Canada. My style of creative direction, for lack of a better word, is holistic: I'm deeply involved in all aspects of our game making process, including game design, level design, art and sound direction, as well as writing. I come from a film and art background, and cut my teeth doing lead game design and level design at CAPY. My latest projects include Critter Crunch for PSN, Clash of Heroes for Nintendo DS and PSN and Superbrothers: Sword & Sworcery EP for iPhone+iPad.
What hardware do you use?
I spend most of my time glued to my two year old 13" MacBook. Because we develop for a handful of different consoles and devices, I find myself orbiting around our PS3 and Xbox 360 kits, iPads, iPhones and recently, Vita kits. I use one of these little guys sometimes, for kicks. I also live inside my Grado SR80 whenever I need to focus. I always have moleskin notebook nearby, just in case. When I need to motivate the troops, I point this piece of hardware in their faces. Highly recommend it to anyone who needs to show someone who's boss.
And what software?
I spend a lot of time in Google Docs, which our teams use to keep track of and modify design documentation and spreadsheets. It's a great way to share ideas and make sure everyone is up to date. I also use in-house editors and tools to work on our game content and tweak variables and stuff. I use Photoshop to scribble notes all over our beautiful concept art and to make laughable concept art of my own. I run Boot Camp Windows XP on my MacBook mainly to work on our game prototypes... but also to run X-COM. I use Wunderlist to keep track of my tasks and Tweetie to post fart-based jokes on Twitter. I use the Korg Monotron to transform normal sounds into badass synths. I use DOSBOX to emulate X-COM. I also use iTunes to listen to psychedelic rock and roll.
What would be your dream setup?
When I get super rich, I'm going to demand Optimal Sleeping and Working Arrangements. And this chair.