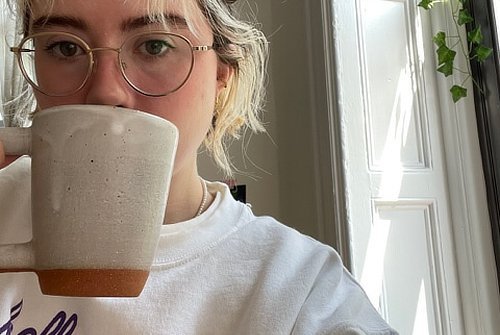 Jillian Meehan
Project manager (Lickability)
Who are you, and what do you do?
My name is Jillian Meehan, and I'm a project manager at an indie iOS studio called Lickability. I also run a biweekly newsletter where my best friend and I share recommendations for things we're watching, listening to, playing, and enjoying. Every once in a while I work on other creative projects, like a zine I made about snacks. And lately I've been really into streaming on Twitch.
What hardware do you use?
I just got a brand new M1 iMac, which I love very much because it's purple. (I'm a firm believer that computers should be cute.) I also do a lot of stuff on my iPad Pro, although it's mostly a Genshin Impact machine these days. And at night when I get tired of looking at Big Screen™ and want to transition to Small Screen™ I use a MacBook Pro with several broken keys that I'm too lazy to get fixed.
For peripherals, I've got a Razer Seiren Mini mic (I got it because it's pink and adorable), a Razer Kiyo Pro webcam, a Logitech G733 headset in lilac (again, adorable), and a pink drink warmer that keeps my tea hot for hours (very important). I also use an AVerMedia Live Gamer MINI capture card to stream from my Nintendo Switch, which I modded with a new shell and buttons to be much cuter.
The star of the show is my Planck keyboard, which currently has banana split switches and a mix of DSA Magic Girl and DSA Astrolokeys keycaps, and a custom cable from Cookie Cables. I got this keyboard about a month into the pandemic and I've loved using and customizing it so much. I want to give a shoutout to Susan and Amy (who I think have both been on Uses This!) for getting me into mechanical keyboards in the first place, and for their contributions to making the keeb space so much more fun + cute. I owe a lot of my happiness with my workspace to the communities they've created.
And what software?
The apps that I have open all day on my computer are Apple Mail, Fantastical, Things, Slack, Linear, Discord, Notion, and Tweetbot.
I use Figma for designing stuff, and VSCode and GitHub Desktop for building stuff. For streaming, I use OBS.Live with Streamlabs for alerts and other widgets, StreamElements and Triggerfyre for chatbot commands, and the Elgato Stream Deck Mobile app on my iPad in lieu of an actual stream deck.
Some of my favorite apps right now are Flow for Pomodoro timing, Streaks for habit tracking, Jour for journaling, and Duolingo for language learning.
What would be your dream setup?
I feel like I'm just about there, but if there was a way to magically prevent my desk and keyboard from constantly being covered in cat hair, that would really make it perfect. Also, I could really use some better cable management.
Uses This is supported by ZSA, makers of the Moonlander, ErgoDox EZ and Planck EZ keyboards. They also publish an awesome newsletter.