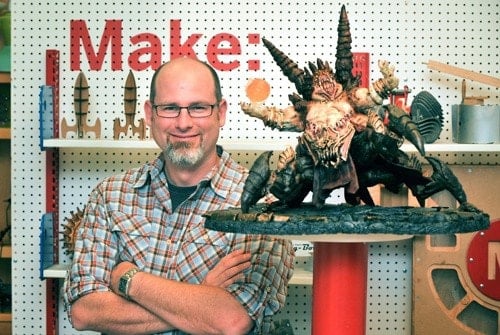 Jason Babler
Creative Director (MAKE), sculptor
Who are you, and what do you do?
My name is Jason Babler. I'm the Creative Director at MAKE, essentially in charge of design, branding and video production for all of Make: Magazine, online properties and of course, Maker Faire. In my spare time, I sculpt monsters.
What hardware do you use?
I design with a MacBook Pro, with a LaCie 324i screen for photo color correction. My mouse is a Logitech M510 wireless, fully mapped with hotkeys. I use a Belkin USB hub for all my My Passports (I neurotically make redundant backups now). When I illustrate, I use my Cintiq 12WX tablet. When I shoot, I use a Canon EOS Rebel T2i.
When I sculpt, I use a set of dental tools, silicone-tipped Clay Shapers, and an array of custom tools, rakes and loops I've made from guitar strings and steel hacksaw blades.
I use Super Sculpey and Magic Sculp, and hard waxes from Willow Wax. I use Smooth-On's Smoothcast resins and silicones.
I airbrush with an Iwata HP-C Plus airbrush and use variety of craft paints. I use an Epilog Laser engraver for leather bracelets and cutting out letters or nameplates out of Delrin plastic for statues. We use a MakerBot 3D Printer for small prototypes and I'm experimenting with creating a plastic posable armature you can print out for sculpting.
For staying alive on the road, nothing beats my iPhone 4S.
And what software?
Adobe CS6 for design (Photoshop, InDesign and Illustrator). I am teaching myself Zbrush for 3D modeling with hopes to not only create 3D models for work-related stories but also to create 1/6 scale statues. I also use Maya for hard-surface models (and for the iPhone games I've created), but I haven't touched it in a while, now that I have Engineering interns at MAKE.
Transmit for FTP serves me well to this day. OS X Mail for sorting through 8 email addresses. I'd be lost with Dropbox to work on projects with people remotely. Yojimbo is my junk box and I simply throw screenshots, PDFs and other riffraff into it for future ideas.
What would be your dream setup?
The Cintiq 24HD touch is the top of my list. Give me a fully loaded MacBook Pro with Retina display and set me lo.
For sculpting, I would love my own studio with space to stretch out, complete with full spray booth and my own Epilogue Laser, Shopbot and a MakerBot Replicator for home!
That'll do it :)
Uses This is supported by ZSA, makers of the Moonlander, ErgoDox EZ and Planck EZ keyboards. They also publish an awesome newsletter.