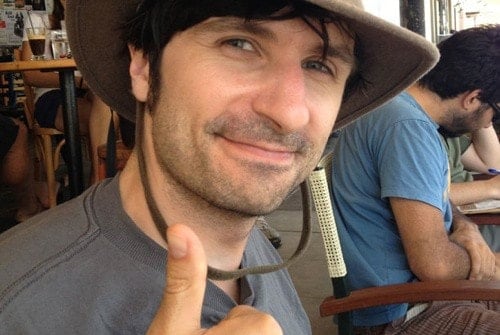 Henry Smith
Indie game developer (Spaceteam)
Who are you, and what do you do?
Hi, I'm Henry Smith. I was a programmer in the video game industry for 10+ years, first at Irrational Games in Boston, and then at BioWare/EA in Edmonton and Montréal. My focus was on UI (user interface) and interaction design. I recently quit my job to live off my savings and make my own indie games! My first game is called Spaceteam. It's a cooperative iOS party game for 2 to 4 players who shout technobabble at each other until their ship explodes.
What hardware do you use?
My main computer is a Mac Pro, but I also have an 11" MacBook Air that I use in cafés and when travelling. I have two monitors, one landscape and one portrait. I have an iPhone 4S and an iPad (1st gen). I'm also borrowing an iPad 2 from a friend because Spaceteam is multiplayer so I need as many test devices as possible! I use my partner's Zoom H1 audio recorder for sound effects. I have a Roland XV-88 piano/synthesizer that I sometimes hook up to my computer to write music, but I haven't touched it for a while :(
Since my job is making games, I also have a variety of devices I use for "research" :) Namely an Xbox 360, a PlayStation 3, and a Wii, which I play projected onto my wall using an Optima HD72 projector. I also have a Nintendo DS and a Sony PSP. And, they're not really hardware, but I have a collection of about 60 board games that I often look to for inspiration.
And what software?
I've been using the Cocos2d iPhone engine for my games so far. It's pretty lightweight and optimized for 2D games, and it has a great community. I use Xcode, TextMate, and Dash for coding. For my iOS games I mostly write in Objective-C++, but I sometime write tools in Ruby. I love Unity for prototyping. It's incredibly powerful but it's overkill for the games I'm working on at the moment. I also prototype in Flash, which is great for making small games. For source control I use git through the Tower client, and Dropbox for online backups. I use Photoshop, Inkscape, FilterForge, and TexturePacker for graphics. Bfxr and Audacity for sound. Evernote, Things, and Remember The Milk for organization. TestFlight has been fantastic for testing.
What would be your dream setup?
I've always wanted a graphics tablet but I've never been able to justify getting one. I also think it would be cool to get a MIDI controller and hook it up to my games during development so I can tweak the parameters with physical knobs and sliders :) But my real dream is to become sustainable through my games so I can bring a laptop and work from anywhere in the world!
Uses This is supported by ZSA, makers of the Moonlander, ErgoDox EZ and Planck EZ keyboards. They also publish an awesome newsletter.