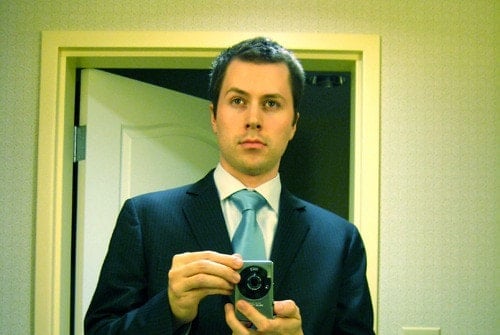 Garrett Murray
Film maker, creator of Ego
Who are you, and what do you do?
I'm Garrett Murray. I make films, websites and, recently, iPhone apps. I guess I'm what you might call a workaholic. Years ago I wrote xPad.
What hardware do you use?
My current setup is a 15-inch Unibody MacBook Pro (2.53, 4GB RAM) connected to a 24-inch LED Cinema Display. I leave the MBP closed most times, unless I'm editing audio or video, then I use it for spill-over. And I can't imagine my life without the Apple Keyboard (full-size, please--I like my big arrow keys and number pad). I use a corded Mighty Mouse, which I absolutely hated at first but have gotten used to, although I really wish they made a left-handed version of the Logitech MX Revolution, since everyone raves about it. I listen to music all day using the first version of the Bose Companion 3 speaker system.
Most of my footage and archived photo content is on a second-gen FW800 Drobo, currently filled with 3 1TB drives. I've also got four more 320GB LaCie FW800 drives for redundancy of various materials and backups. My apartment is blanketed in wireless thanks to two Airport Extremes (the 802.11n model)--one in the office and one in the living room behind the TV--running a WDS network.
I record the podcast and other audio using a Digidesign Mbox 2, which loves to occasionally throw kernel panics. How lovely. We shoot the sketch show and short films on a Panasonic HVX-200A HD camera (which records to solid-state P2 media), and when shooting short films use a Cinevate 35mm lens adapter. I tend to shoot with only the Nikon 50mm 1.8 and 28mm 2.8 prime lenses. I shoot quick little videos with my Nikon D90.
Oh, and I've always got my 16GB iPhone 3G with me.
And what software?
I spend most of my time in TextMate. It has been my friend and companion for years now and I couldn't live without it. I love CSSEdit and use Transmit daily. I check Twitter with Twitterrific (probably too much). My primary browser is Safari (currently the version 4 public beta, which I'm still trying to get used to visually), and I try to avoid opening Firefox except when I need it for testing. I use NewsFire for feed reading (which I have managed to cut down in the past few years). And I don't think I could live without Dropbox and Grabup. When it comes to common tasks, I use common tools: I use Apple Mail, iChat, Terminal, etc. I also spend a ton of time in Photoshop CS4.
I edit video in Final Cut Pro and audio in Pro Tools LE. I manage photos using iPhoto and Lightroom. I use Podcast Maker to publish Maniacal Rage TV.
My site uses Tumblr, which I absolutely love. I can't imagine using anything else at this point, even though I spent years building all sorts of CMSs.
On my iPhone, I use Ego, Tweetie, NetNewsWire and Things the most. I also play a lot of Horror Vacui and Fieldrunners.
What would be your dream setup?
I'm very happy with my current setup. I wouldn't mind having a 30-inch LED Cinema Display instead of this 24-incher, though. And I want a leftie MX Revolution mouse.
Uses This is supported by ZSA, makers of the Moonlander, ErgoDox EZ and Planck EZ keyboards. They also publish an awesome newsletter.