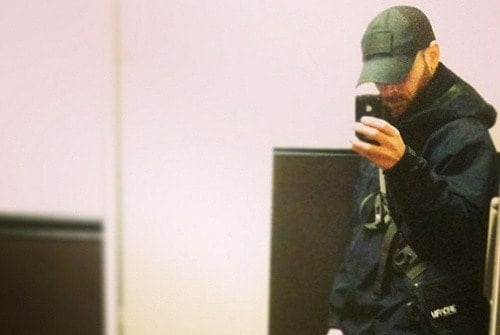 Dietrich Groundsel
Creative consultant, image analyst, curator
Who are you, and what do you do?
My name is Dietrich Groundsel. I live in the spook rich suburbs just outside the District. I'm a freelance creative consultant and curator of otakugangsta.com.
What hardware do you use?
"Vintage" Mac Pro Dual-Core 2.66 with dual 21" LG monitors. It is tempting to upgrade to my ideal setup, but my current rig gets the job done. I recently upgraded from an iPhone 3GS to a Space Grey iPhone 6 with Stealth Grey Magpul case. The usefulness of the 3GS had run its course as a primary internet appliance but lives on as a music device usually attached to some Audio-Technica ATH-M50x headphones. I would rather not have to use smartphones due to surveillance factors, and keep a feature-dumb flip-phone with the batteries out in a Faraday pouch at a dead drop well outside my home as a sort of insurance.
My EDC changes day to day and includes either an Acronymn 3A-3TS bag or Goruck Radio Ruck carrying a mix of Moleskine, Field Notes and Word notebooks, a few black Pilot G-2 0.38mm pens, an iPad 3, a Surefire Minimus headlamp, a Carson Bandit 8x25 Quick-Focus Monocular, an ITS EDC Trauma Kit, and a Powermonkey Extreme for recharging devices. Packed inside a Radio Ruck field pocket I have a couple Go-Tubes holding select urban survival items from Vigilant Gear, assorted spare batteries and cables, a Fischer Space Pen and Rite in the Rain Tactical Pocket Notebook. On my person I usually carry the iPhone, a Suunto Ambit2, flashlight and knife of the day, a TIHK, select items from a Vigilant Gear Micro SERE Kit, Lindberg AIR Titanium glasses and Yasutomo Wa-Ben wallet.
And what software?
Adobe Photoshop and Illustrator for design. Aperture for photo management. Google Chrome with TweetDeck and Tumblr open in the primary window. Adium for chat. For email I use Apple Mail with GPG Suite. Lastpass for password management. Notational Velocity for notes, ideas and lists, just about everything text based. Firefox, Safari, TextMate and Transmit are used when editing or designing sites. Terminal when troubleshooting latency issues and for some remote admin. Transmission, rarely. On the iPhone and iPad I mainly use Instagram, TweetDeck, and Tumblr, and stock apps such as Notes and iCal.
What would be your dream setup?
My dream setup could easily get out of hand but would basically be a Mac Pro and a 13-inch MacBook Air completely maxed out, dual 27-inch Apple monitors, wireless keyboard, mouse and trackpad. Maybe a Harman Kardon Soundsticks III 2.1 Channel Multimedia Speaker System with Subwoofer and an adjustable standing desk like a Stirworks M1. The gear would be housed underground in a reinforced matte grey 'iceberg stealth shack' with discreet satellite and solar hookups, hydroelectric power and hydroponic gardening; the sort of place riotous post-shtf bandits would pass right over.
Uses This is supported by ZSA, makers of the Moonlander, ErgoDox EZ and Planck EZ keyboards. They also publish an awesome newsletter.