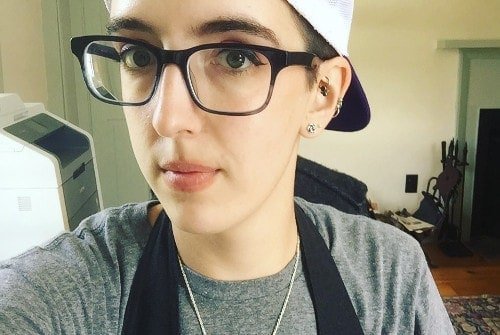 Claire Hopkins
Botanist, educator (Brilliant Botany)
Who are you, and what do you do?
My name is Claire Hopkins (pronouns: she/her), and I am a botanist and informal science educator. I run the website Brilliant Botany, a hub of plant science information that includes resource lists, merch and weekly YouTube videos. I spend my time updating the site, researching scripts, generating graphics and editing videos.
I also run a small Etsy shop selling knitted items, walk dogs and have a day job at a biotech company. In my spare time I knit, watch TV, walk my dog, and read. I love urban fantasy, The Great British Bakeoff, and makeup.
What hardware do you use?
For filming and photography, I use a Canon Rebel T5i DSLR with a 18-55mm lens, a Rode VideoMicro microphone, and a Parrot Teleprompter, all on top of a Polaroid PLTRI72 72" tripod. I currently use a Genaray Octolux Light. I use my iPhone 6 for taking photos, to run my scripts on the Teleprompter and check social media. I have an Opteka 10x Macro Conversion Lens that I occasionally use to get close-up photos and video of plants.
My computer is an iMac with a 21.5 inch display. It sits on my dining room table, surrounded by the files, stamps, and all of the other supplies I use to maintain my site and package merch. The floor is also covered in dog toys.
For keeping track of my schedule and tasks, I use a Compact Lavender Bliss Passion Planner with a Pilot Retractable Precise V5 RT pen. I'm lost without my planner!
And what software?
My Mac currently runs OS X El Capitan. For editing, I use iMovie, as I don't have particularly complex editing needs. I plan to upgrade to Adobe Premiere in the near future.
For graphics for my videos, website and merch, I use Adobe Illustrator and occasionally Adobe Photoshop.
For script writing, I use Google Drive, since this allows me to work on things wherever I am.
My website is hosted on Squarespace, and I use HootSuite to schedule posts to Instagram and Twitter.
What would be your dream setup?
Oh boy, my wish list is extensive. I would love a DJI Mavic Pro drone, allowing me to add cinematic shots to my videos. A MacBook Pro to let me to edit on the go. A Canon EF 50mm f/1.4 lens. A ring light to use as a key light. A lavalier microphone. A proper desk chair to support my back while I'm editing. Or perhaps just an experienced editor to do my editing, as it's not my forte!
Uses This is supported by ZSA, makers of the Moonlander, ErgoDox EZ and Planck EZ keyboards. They also publish an awesome newsletter.