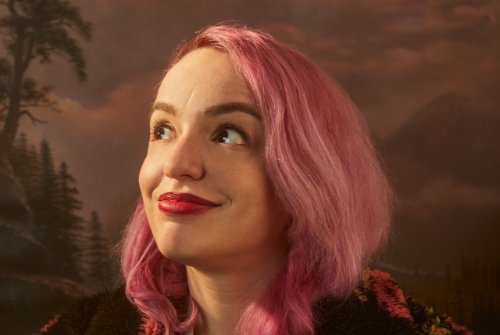 Carly Monardo
Artist, performer
Who are you, and what do you do?
My name is Carly Monardo, and I'm an artist and performer from New York. I've been working professionally as an artist for well over a decade, in animation, publishing, game design, tech, and more! Notable clients include: Adult Swim; Cartoon Network; Flatiron Books; Hulu; Marvel Comics; Nick Jr.; Saatchi & Saatchi.
I'm also a performer, having years of experience doing improv and sketch comedy at NYC theaters and festivals across the country. Currently I'm a cast member of Rude Tales of Magic, a narrative play podcast AV Club called "Best New Voice in Actual Play Podcasting".
What hardware do you use?
I work on a 21.5" iMac, set up as a dual monitor with my Cintiq 22HD display. I also work on a 12.9" iPad Pro with Apple Pencil.
For podcast recording, while our studio is inaccessible, I record on a Shure USB microphone. I had a set of earbuds I really liked from LSTN but I lost them during the pandemic when I started working remotely.
And what software?
I work predominantly in Adobe Photoshop, but I use a lot of the Creative Cloud apps: Premiere Pro, After Effects, InDesign. For animating in Photoshop I like the AnimDessin2 extension created by Stéphane Baril, and I use ToonBoom's Storyboard Pro for storyboarding. I also use Procreate on my iPad, though I haven't gotten into animating on their timeline yet.
Our podcast records remotely using Zencastr to capture audio and Zoom to see each other's faces! Any time I pitch in to edit audio I use Adobe Audition, sometimes Audacity.
What would be your dream setup?
I'm generally very happy with my digital setup, but I'd love to have a dedicated studio space one day where I could set up a screen printing press and have an exposure unit for screens, an acetate printer, the whole nine. Also a space where I could do stick and poke tattoos. I so rarely get to work with my hands in that way!
I'm also very eager for the time when me and my Rude Tales cast-mates can return to our studio. It's a very happy place for me.