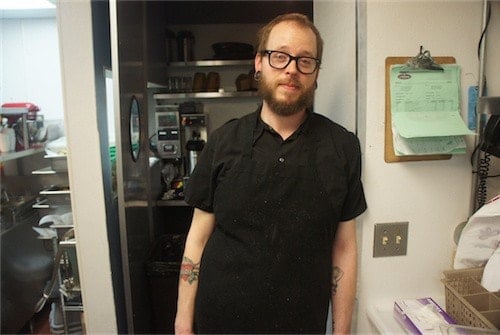 Bryan McClaran
Chef de cuisine (Uptown Management Group)
Who are you, and what do you do?
My name is Bryan McClaran and I'm the chef de cuisine for Uptown Management Group in Chicago. It's a company that owns a few bars and restaurants around the city, and plans on expanding a ton in the next couple of years.
Right now, my project within the company is Crew Bar + Grill. It's a LGBT-friendly neighborhood sports bar that is in the middle of getting re-conceptualized. Craft beer and awesome food are key points in that. In what little spare time I have, I am usually found hanging out with my wife or on my bike - sometimes commuting on my fixed gear, and sometimes racing cyclocross with a local team.
What hardware do you use?
Cooking: There are few tools more integral to a profession than the knife is to being a chef. Most of us have an assortment, and here's my day-to-day setup: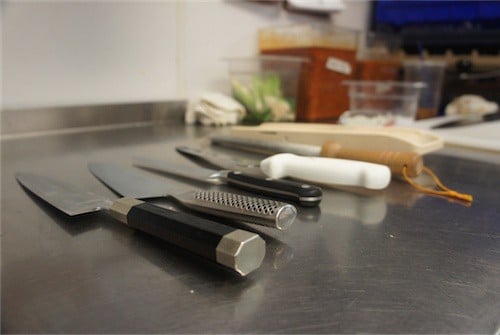 Furthest left is a 210mm Masanobu Gyutou, which is my darling. I love that knife more than I love most things. Next is a 180mm Global Oriental Cook. It handles the tasks that the Masanobu is too delicate for. Next is a 6inch Messermesiter Meridian Elite Utility Knife. For bread, I use the good old 8 inch Dexter-Russell Offset Handle. I don't see much point in buying an expensive bread knife, because I don't have the special shit necessary to sharpen it. I buy one for $18, use it until it's dead, and throw it away. Last, the item that keeps my knives in working order is the 8" MAC Ceramic Honing Rod. It doesn't sharpen; it just cleans and polishes the edge. Behriner mandolins are pretty great. I have a few Mizuyama stones at home to keep them sharp. I have around 20 other knives and three or four other honing rods that rotate through the kit, but this is the most common setup.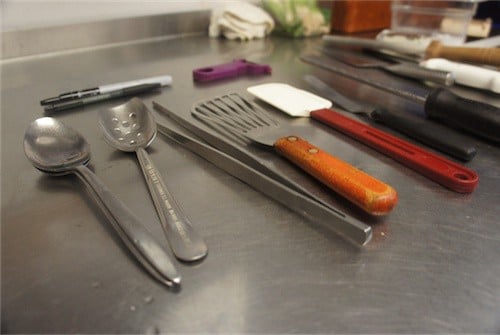 Now for the tools. The solid spoons are from Edward Don & Company, but they don't make that particular item any longer. They're similar to the famous Gray Kunz spoon, of which I own a few, but I prefer the way these are balanced. The perforated spoon is a Richcraft. I have the solid one from them too, but rarely use it. The tweezers replaced tongs in my life around two years ago. The Sveico slotted fish spatula is a life-saving tool that gets used for more things than I can possibly list. American Metalcraft makes some great, yet cheap, rubber spatulas. The Ateco Ultra #1305 mini spatula is one of the handiest tools that a cook/chef could have. I buy the Kuhn Rikon Swiss peelers five at a time, because they always disappear. Microplane zesters rule. BIC Soft Feel pens and retractable Sharpies make my writing hands happy.
Not pictured is a battery of equipment from Imperial Range, Vita-Mix and Waring Pro. Rӧsle makes the best whisks ever. Period. Also, I jury-rigged a sous-vide system out of a department store food-saver and a few other things. I'm a tinkerer. If I can't buy what I need, I make it.
Dansko Professional shoes and Cayson Designs shirts and aprons round out the things that I use every day. Comfort and looking good are tantamount.
Cycling:
Since I race cyclocross and commute year-round in Chicago, I needed a tough bike that could handle most any conditions. So, I got a Specialized Crux frameset, and built it up with a Thomson stem (not pictured), Fizik saddle, Crank Brothers pedals, SRAM shifters, Avid brakes, some wheels I built, and a rotating cast of tires from Clement and Challenge (tubulars for racing) and Schwalbe (clinchers for commuting and such).
I'm in the process of building up a Bianchi Pista for commuting and generally getting rad on, but it's currently just a frameset and I have no other info on it.
Most of the work on my bikes was done myself, but the rest is done at my buddy Lou's shop. It's called The Pony Shop, I worked there for a while as a mechanic while taking a break from cooking, and a good portion of my gear is from there as well.
Both: Levi's 511 Commuter jeans are aces.
And what software?
For cooking, I use Digital Dining and Optimum Control for inventory tracking, invoice management, and food cost control. My home PC is a custom rig running Win7-64bit, Work PC is a Dell Optiplex 390, also on Win7. Dropbox is a total game-changer. Microsoft Office is used across the board. It's pretty safe to say that my iPhone is my main computer, though. It's also got Office and Dropbox, so I have work wherever I go. My wife gets pretty annoyed about that sometimes.
I support local foods whenever possible, so Dave Odd of Odd Produce is one of the main guys I turn to. He goes out into nature, finds wild foods, and brings them to me. Sometimes, I go with him. It's a great way for me to get more acquainted with the food, and it's a bit of money on the side. Win-win. Green City Market is a super valuable resource, and a great way to network.
With cycling, the only software I really use is Strava. It's great for tracking a myriad of statistics about any given ride. That said, my team is going to start using TrainingPeaks. We will see how that goes...
What would be your dream setup?
Cooking: Jade cooking appliances, a custom made wood-fired grill, PolyScience immersion circulators, Koch Ultravac vacuum sealers, a blast chiller, a liquid nitrogen tank or two... A bigger kitchen would be nice too, haha.
Cycling: It changes all the time. It'd be a full custom build, as usual. Fortunately, my team is sponsored by Specialized, so that may happen sooner than later.
Uses This is supported by ZSA, makers of the Moonlander, ErgoDox EZ and Planck EZ keyboards. They also publish an awesome newsletter.