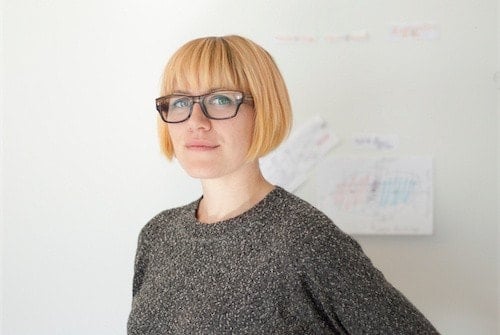 Brie Code
Lead developer (Ubisoft Montreal)
Who are you, and what do you do?
I'm Brie Code, and I'm a lead programmer at Ubisoft Montreal. My last project was Child of Light.
What hardware do you use?
Each person on the team has a different setup depending on their needs - or when they last got their hardware upgraded. But we all use fairly new PCs with two large monitors. I use one monitor for email and one for whatever else I'm currently trying to accomplish. We have an open office plan, so when I need to concentrate I wear an Astro A30 headset which I got at the launch party for Assassin's Creed: Brotherhood, and it's customized with Assassin's Creed tags. We also use various video game consoles and TVs. On Child of Light my team developed for PC, PS4, PS3, XB1, X360, and Wii U. In general we share each console between 2-3 people.
I also use my trusty iPhone 5 to keep track of email and urgent messages while I'm in meetings. I like to use Kate Spade notebooks for taking notes because they have whimsical little messages on each page and they're small and easy to carry anywhere. I only use Sharpie Fine Point pens in black - they are amazing! Everyone should know about them! They feel good to write with and don't bleed through the paper. We also use a lot of whiteboards and big poster boards for brainstorming and tracking our progress. And one of my lovely colleagues brought in a set of unusual colours of Expo dry erase markers so we have prettier whiteboards than everyone else.
At home I use a 13-inch MacBook Pro from early 2011 and an iPad 2. I want to upgrade my computer soon. Right now, if I want to program at home, I hook up my laptop to an ASUS PB287Q monitor, a Logitech Multi-Device K480 keyboard, and a Logitech Ultrathin Touch T630 mouse. The keyboard and mouse are wireless over Bluetooth and the mouse accepts multi-gestures like a trackpad. In the mornings, I motivate myself to get up early enough for work by listening to music in the shower with a water-resistant iLuv MobiOut Bluetooth speaker. And I set up a charging station for everything in a BlueLounge CableBox Mini.
I also have a PS3 and an Xbox 360. I haven't bought a PS4 or XB1 yet and may not buy one. I've been borrowing a PS4 from work every once in a while. I don't have Windows installed at home, so when I want to play a PC game, I play it at work during lunch. But most of the games I play now are on tablet or phone.
And what software?
My work computer is running Windows 7. For email I use Microsoft Outlook. For documentation, schedules, and presentations, I use Microsoft Excel, Visio, or PowerPoint. For development I use Microsoft Visual Studio 2012. For source control I use Perforce.
I have tried lots of TODO list and note-taking apps, but I still just use a table I keep open in WordPad with sections for "Today's Three", "Tomorrow", "Reminders", "Done", and "TODO". TODO has all my open tasks grouped into categories. Reminders is for things for which I don't need to do any action, but should just keep in mind. Today's Three are the three things I want to get done today, Tomorrow is for the possible next three (though priorities usually change overnight), and I keep a backlog of recent Done tasks to be able to look at to help counter a sense of being overwhelmed when I am busy. Some of my team members make fun of me for using WordPad but it's simple and perfect for my requirements.
At home I use MonoDevelop for programming and Chrome for watching Netflix.
What would be your dream setup?
The Mac Pros are so pretty now. I would also be happy with a new PC built into a DIYPC HTPC MiniCube in Gold Aluminum. And I like to have a lot of those Sharpie pens around.