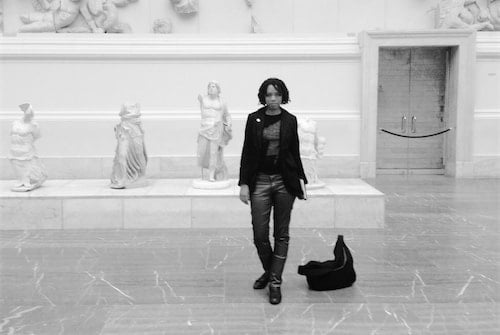 Auriea
Interactive artist, game designer (Tale of Tales)
Who are you, and what do you do?
Hello, my name is Auriea. I make interactive art and design, mostly in collaboration with my husband Michael: on websites as Entropy8Zuper! and on video games and other projects as Tale of Tales. We have a studio in Ghent, Belgium where we live and work. I personally am more on the visual side and consider myself to be foremost a 3D artist. But I draw quite a lot too, and that's a real passion.
What hardware do you use?
What I like most is my everyday kit, which is the stuff I have in my bag almost constantly. I consider this to be my 'portable studio' equipment, so even if I'm travelling I could make a masterpiece if I'm feeling it. This consists of:
A sketchbook, the most important thing. I've kept sketchbooks since I was 13, so I've got this wonderful library of my life and each book is made in a different way, given my skills and interests at any given point. These days, they are usually about the size of a Moleskine, but since I make them myself it's filled with whatever paper I fancy at the time, plus extra sheets if I'm going someplace specifically to draw. And I have a really nice leather book protector cover that can also hold pencils and pens that I found at Sennelier in Paris. I never go anywhere without at least one sketchbook.

There is a baffling array of pens, pencils, waterbrushes, old Altoids or Partagas cigarillo tins filled with halfpans of watercolors, Pentel ink brush pens, Artgraf water-soluble graphite sticks, Generals charcoal and chalk pencils, Silverpoint styli (no joke), sandpaper, x-acto knife, KUM long-point pencil sharpener, Faber-Castell colored pencils... whatever(!) I can stuff into the oversize pencil case which always threatens to leak substances into the bottom of my bag.

My iPhone 5c. It's a pink one with a black case, and is my first real smartphone (because I was never really into the idea of 'mobile phones'). But it's kind of changed my life. I take photos of everything, having given up on "real" photography years ago - the my phone is my camera and I find myself using it all the time. I also like being able to jot down my ideas and have them sync to all my computers.

So ditto my iPad Mini. The 1st gen one, which I'm so glad I got because it's black and they no longer have the good sense to offer them in that color anymore. I recently got a Quirky Web Case. I store a very small Moleskine notebook with a clip-on pen I found at a great little stationary shop in Carrousel du Louvre called Delfonics (recommended) and an iPad stylus (a Wacom Creative Stylus 1) on the back of the thing.

I like to record sounds around me, I find its as evocative as a photograph, so for that I have a RØDE i-XY microphone I plug into my phone. I'm a multimedia person, so making notes with my camera and microphone has become a wonderful part of my life.

A maxed-out 11" MacBook Air that I love. Seriously, it's the best laptop I've ever had, and I have had many of them. Hall of Fame. It may not have a graphics card, but it makes up for that failing by being so light that I can take it with me anywhere. It runs Blender 3D and ZBrush if I'm not working too high rez. I can do anything else I need to with it. I put a matte black opaque Speck case on it because I'm not too fond of that Apple logo.
For work in the Studio I have a 27" iMac on a Ergotron arm so I can swivel it any way I like. A Wacom Cintiq Companion Hybrid that I hook up to it if I'm doing more precision work. But mostly I'm using the mighty and huge Wacom Intuos Pro Large - I actually like the mouse it comes with. I have several Wacom pens but I especially like the Art Pen because it has rotation as well as tilt. And when you have different pens, you can set them up in Corel Painter to each be a different material, and make a different mark.
Oh, and I guess I like my scanner - it's an Epson Perfection V500 Photo, so I can scan all those old photo negatives I have from the past... which I do look at when feeling nostalgic.
And what software?
I use Fission and Sound Studio for audio editing.
I like the Procreate painting app on iPad.
Autodesk 123D Catch for quick 3D captures on my phone. When I get home I download the source photos and use a program called PhotoScan to stitch the pictures into more detailed 3D models if I want a different result. Photogrammetry is surprisingly simple and very fun.
One of my favorite programs for playing with software ideas is Max/MSP/Jitter. Visual programming is the best! There should be more of this paradigm.
For 3D I absolutely love Blender, because it's so lightweight and keeps getting better with each new release. I've used it almost my entire career, so I've grown along with it. I use ZBrush, though it drives me crazy... it's amazing software.
I have no idea how I managed before Evernote, Dropbox and Things. I shudder to think what my life would be like without them. Add to that the stock OS X Calendar (with alarms!) and Mail -- there's my portable brain. I have them synced and ready. I need them to be there, or all is lost.
Oddmuse Wiki, created by Alex Schröder. I have used this wiki script for many, many years for all kinds of purposes. It's simple and flexible. Easy to program for if you need to alter or expand it.
But let's not play, sometimes I gotta FTP so I'm all about Panic's Transmit. For some reason I started using MacRabbit's Espresso for HTML and I still think it's great for its CSS editor. But TextWrangler is great for HTML too - no fuss, no bells, no whistles.
I have some time-management issues :> So I use Pomodoro Timer if I need a procrastination-free day.
What would be your dream setup?
I most wish I could have a small laptop like the Air but with a monster graphics card inside, a touchscreen with pressure sensitive pen input and a built-in high-quality video projector so I could work seriously on 3D anywhere. I'd like a 3D printer in our studio that outputs to wax, plaster, marble and bronze.