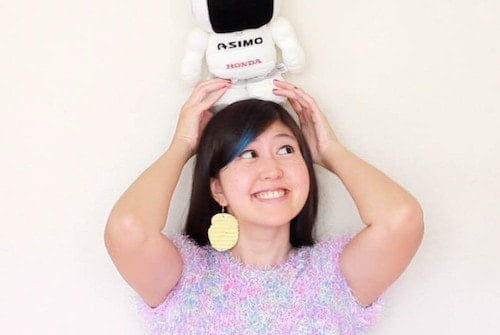 Amy Wibowo
Software engineer, Sailor Scout
in mac
Who are you, and what do you do?
I'm a software engineer who just left my job as a web developer at Airbnb to write zines that explain computer science concepts in accessible and engaging ways through comics, diagrams, and stories.
I live in a sunny apartment in San Francisco with my cat Moxie. I like to go on bike adventures on my mint green bike named Peppermint Patty. In past lives, I was an HCI researcher at Tokyo University, a machine learning researcher with the ASIMO team at Honda Research Institute, and a violinist in the pit orchestra of a Tokyo opera company.
Oh, and I'm a real life Sailor Scout.
What hardware do you use?
A 2014 15in MacBook Pro, a 27in Thunderbolt display, gold iPad mini 3 to preview digital zines, gold iPhone 4, Sakura Pigma Graphic black marker, Zig Writer markers for colors, printer paper. I love working with real life markers and paper so much.
I film and photograph mostly with a Canon T3 and a 35mm f2 lens, but I am super fond of my Canon AV-1, Land Camera, and Fuji instax. I might have a camera collecting problem.
I love to play games on my turquoise 3DS, and I keep it in a case designed to look like Sailor Mercury's supercomputer.
And what software?
Adobe InDesign for laying out zines, Photoshop for touching up marker drawings, Illustrator for designing stickers, iMovie for movie editing, VSCO Cam for photo editing while I'm traveling, Sublime Text for writing code, iTerm, Simplenote for writing notes to myself, Todo for todo lists.
My favorite games lately are Animal Crossing for the 3DS, Link Between Worlds for the 3DS, Lost Constellation, and The Yawgh.
What would be your dream setup?
Lots of floor space to spread out paper and draw with markers, lots of plants and natural light, Eames dowel-leg desk chairs.
Uses This is supported by ZSA, makers of the Moonlander, ErgoDox EZ and Planck EZ keyboards. They also publish an awesome newsletter.