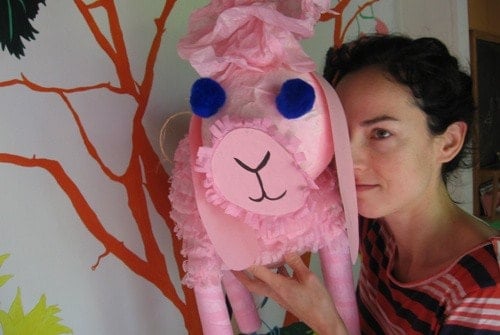 Amy Jean Porter
Artist, friend to animals
Who are you, and what do you do?
I'm an artist, mainly someone who likes to draw. I've drawn a lot of animals. Most recently lambs for a book project with Matthea Harvey and McSweeney's. I live in the woods outside of New Haven, Connecticut, with my family and an ever-active crew of hungry squirrels and skunks.
What hardware do you use?
I have a sturdy hand-me-down table/desk from Ikea. It's like a butcher block. There's a line up of colored pencils and stacks of books and cards and photos. On another sturdy desk - an old wooden teacher's desk that my husband and I picked up for 20 bucks at a lawn sale - we have a 13" MacBook Pro, a couple of external hard drives, an old Canon scanner, a printer, and an old Canon point-and-shoot camera.
I make my drawings by hand, mainly at the butcher-block table, though for the summer I've had a lovely empty summer studio. I use mainly pencil, ink, and gouache. I'm addicted to gouache because of the colors you can get and because it has such a soft surface, like powdered sugar. I don't do much work digitally, I prefer making things by hand, so I've just needed a way to capture images and get them online (for my site and places like The Awl and 20x200).
And what software?
Your basic Adobe CS - Photoshop, GoLive. Sometimes I try InDesign and Illustrator, but just for simple things. I like this idea of keeping everything ridiculously simple - my site is pretty much straight html (originally created by my pals at Gluekit - thanks forever!). I've had this thing my whole life about trying to make the most out of two crayons and a piece of paper.
The MacBook is also essential for listening to podcasts while I work. I discovered a while ago that I must listen to people talking (not singing, not music) while I work. It keeps part of my brain entertained so that the other part can focus on tiny tedious things. I think of it this way because I listen a lot to Radiolab and they're constantly talking about brains. Before podcasts were popular, I had a wind-up low-frequency emergency radio and I would listen to CBS 880. The act of winding the thing up every 20 minutes or so was satisfying.
What would be your dream setup?
The big dream would be to build a studio behind our house with two stories and north facing skylights and lots of bookshelves, and a sink. There was an article in the Times about kid houses and it's a weird article, but the tiny houses did have running water. I was impressed. I'd love a new iMac and a big, properly calibrated scanner so I can get better color out of the scans I make. One of those old, awesome flat files would be great, too. A rug with some kind of Anni Albers pattern. A dog. Maybe some chickens or goats in the yard. The kids could name them. I would draw them.
Uses This is supported by ZSA, makers of the Moonlander, ErgoDox EZ and Planck EZ keyboards. They also publish an awesome newsletter.